Wednesday, December 16, 2020
RENTEX, INC. PROVIDES BARCO PROJECTORS TO PAINTSCAPING IN SUPPORT OF GUINNESS WORLD RECORD™ TITLE "LARGEST PROJECTED VIDEO GAME DISPLAY"
120,000 lumens at the top of Copper Mountain set the stage for Xbox Spectacular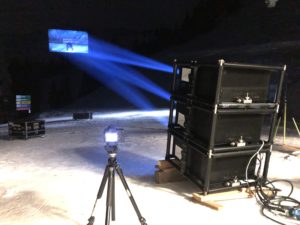 Canton, MA  – (December 17, 2020) – Rentex, Inc. provided three Barco UDX-4K40 Flex projectors for the largest ever projection of a video game. This amazing display, produced by LA-based Be Core, Inc., featured snowboarder Grant Giller playing Xbox's Destiny 2.
The spectacular live event was executed by 3D projection mapping leader, PaintScaping Inc.  Projected at the top of Copper Mountain in Colorado, the game display size was 19,090 square feet (180.15' x 105.87') at a breathtaking altitude of 11,000 feet.  Industry rental leader, Rentex, rented three Barco UDX-4K40 Flex laser projectors to PaintScaping. Of course, the Rentex projectors were in immaculate condition, allowing PaintScaping to do their magic and stay on schedule.
"It was reassuring to work with Rentex and the Barco 40,000-lumen projectors for this super-cool project," says Philippe Bergeron, President of PaintScaping. 3D projection mapping is not new to PaintScaping. The company gained notoriety this summer by producing the world's first ever projection mapping on an operational rocket at Cape Canaveral.
"As a rental partner to our clients, we do not always know where our equipment is going, or what great experiences our they create for their clients. It was a treat when our customer/partners at PaintScaping explained why they needed a delivery at the top of a mountain," says Janne' Mummert, Vice President of Business Development at Rentex. "The amazing image quality of Barco's UDX 4K40 combined with the creativity and talent of Philippe's team at PaintScaping delivered a stunning visual experience. We thank PaintScaping for trusting Rentex to provide pristine equipment for this project."
About Rentex, Inc.
Rentex, Inc. is a national leader in the wholesale rental of production, pro audio visual, and computer equipment. With 10 convenient locations, Rentex provides equipment to the nation's largest staging, production, and other live event companies. More than a vendor, Rentex believes that all companies in the live event industry should rent from a partner, not a competitor. For more information go to www.rentex.com or follow us:
LinkedIn:  https://www.linkedin.com/company/rentex-computer-&-audio-visual-rentals
Facebook:  https://www.facebook.com/rentexrentals
Twitter:  https://twitter.com/rentexrentals
About Barco
Barco designs technology to enable bright outcomes around the world. Seeing beyond the image, we develop visualization and collaboration solutions to help you work together, share insights, and wow audiences. Our focus is on three core markets: Enterprise (from meeting and control rooms to corporate spaces), Healthcare (from the radiology department to the operating room), and Entertainment (from movie theaters to live events and attractions). For more information, visit us www.barco.com, or follow us at:  Twitter (@barco), LinkedIn (Barco), YouTube (BarcoTV) or like us on Facebook (Barco).
About PaintScaping.
PaintScaping is the industry leader in 3D mapping.  Founded in 2009 by Philippe Bergeron, the Los Angeles-based company has produced unique 3D mapping shows across the U.S. including Orlando, Los Angeles, Las Vegas, New York, and Chicago, and many places around the world. Among its many clients are MGM Resorts, Ritz-Carlton, Sony Pictures, Westin Hotels, Caruso, and Cirque du Soleil. It holds many records in the mapping world. The most viewed mapping ever on YouTube. The biggest USA mapping ever. And the longest throw ever at 1.1 km. For more information go to  http://www.PaintScaping.com or follow us at:
https://www.twitter.com/paintscaping
https://www.facebook.com/paintscapinginc
https://www.linkedin.com/company/paintscaping
https://www.youtube.com/paintscaping
https://www.instagram.com/paintscaping
https://vimeo.com/paintscaping
###
Press Contact:
Marcel Maillet, Director of Marketing & AVP
800-308-1786
marcel@rentex.com