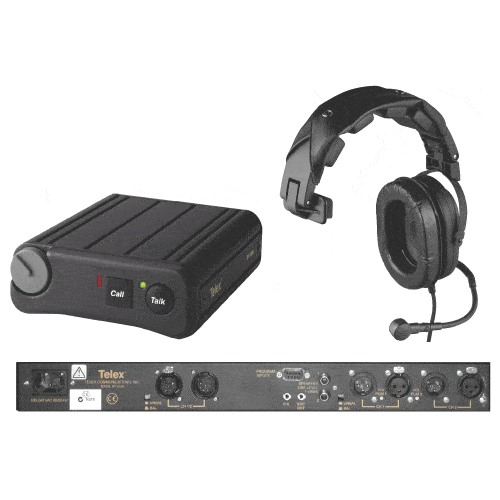 Mouse roll-over to zoom image.
Product Highlights
Beltpack for Single-Chanel Intercom
Talk-Button Activated Headset
Sidetone Control for Self-Voice Level
Call Function to Signal Other Users
Clear Com Compatible
Rentex No.

TLXBP1002
|
Mfr No. F.01U.118.742
The Telex BP-1002 is a single-channel wired intercom beltpack featuring a 3-pin XLR input/output configuration. These connections can be used in balanced or unbalanced situations, and the unit itself can pass power through to other beltpacks, thus daisy-chaining devices in tandem.
The BP-1002 features an auto sensor which self-determines if an Electret or Dynamic headset is attached, as well as a talk-button activated headset, a sidetone control to modulate the level of your own voice in your headset, and a light-based call feature to summon other users as needed. Additionally, the BP-1002 is Clear-Com compatible, making it suitable for use within—or orchestrating—live productions.
Headset
Impedance
Electret microphone: 1000 to 3000 Ohms
Dynamic microphone: 50 to 200 Ohms
headphones: 150 to 600 Ohms
Intercom
Output Level
Balanced: 1 Vrms nominal
Unbalanced: 775 mVrms ±10%
Minimum Terminating Impedance
Balanced: 300 Ohms ±10%
Unbalanced: 200 Ohms ±10%
Bridging Impedance
Balanced and unbalanced: >10 kOhms
Call Signaling
Balanced send: 20 kHz ± 100 Hz, > 0.5Vrms
Balanced receive: 20 kHz ± 800 Hz, 100 mVrms min
Unbalanced send: 12 ±3 VDC
Unbalanced receive: 4 VDC min
Frequency
Mic-off frequency detect: 24 kHz ±800 Hz, 100 mVrms min
Noise
Contribution: < -60 dBu on the line
Connector Types
1x 3-pin XLR female
1x 3-pin XLR male
Configuration
Balanced pin outs:

Pin 1: Common
Pin 2: Intercom audio low and +24 VDC input
Pin 3: Intercom audio high and +24 VDC input

Unbalanced pin outs:

Pin 1: Common audio and power
Pin 2: +30 VDC input
Pin 3: Intercom audio

Controls and Indicators
1x Talk button
1x Call button
1x Volume knob
1x Talk LED indicator
1x Call LED indicator
Headphone Amplifier
Maximum Output
3.5 ±10% Vrms into 150 Ohms headset
Frequency Response
200 Hz to 8 kHz ±2 dB
Alert
1 kHz, at the headset
Total Harmonic Distortion
< 1% at < 3.25 Vrms into 150 Ohms headset
Sidetone
17 dB minimum range, adjustable
General
Environmental Requirements
Storage: -4 to 176°F / -20 to 80°C, 0% to 95% humidity, non-condensing
Operating: 5 to 140°F / -15 to 60°C, 0% to 95% humidity, non-condensing
DC Current Requirements
45 to 70 mA
Power Requirements
Channel supplied: 24 VDC nominal, 40 to 100 mA
Local-power: 24 VDC nominal (21 to 30 VDC), 40 to 100 mA
Dimensions ( H x D x W)
5.0 x 3.5 x 1.8″ / 127 x 88.9 x 45.7 mm
Weight
1.5 lb / 0.7 kg
Rent from a Partner, Not a Competitor
24/7 Sales
& Technical support

Same Day Delivery
to Most Major Cities

Competitive
Subrental Pricing

A Large Inventory of
High-Quality Equipment

Best-in-Class
QC Process

Rentex Locations
With locations across the country, Rentex can deliver to most major cities.

To reach local support, simply click on the location below. For Rental Emergency Support, call (866) 541-3465