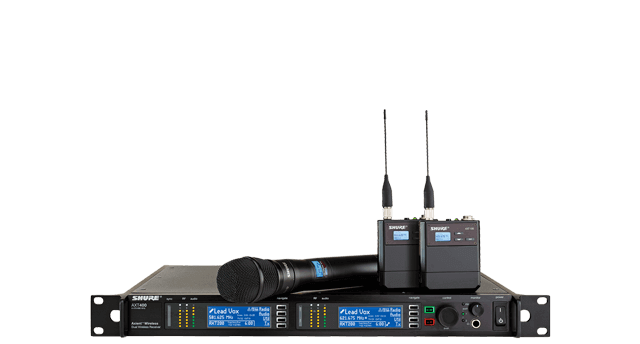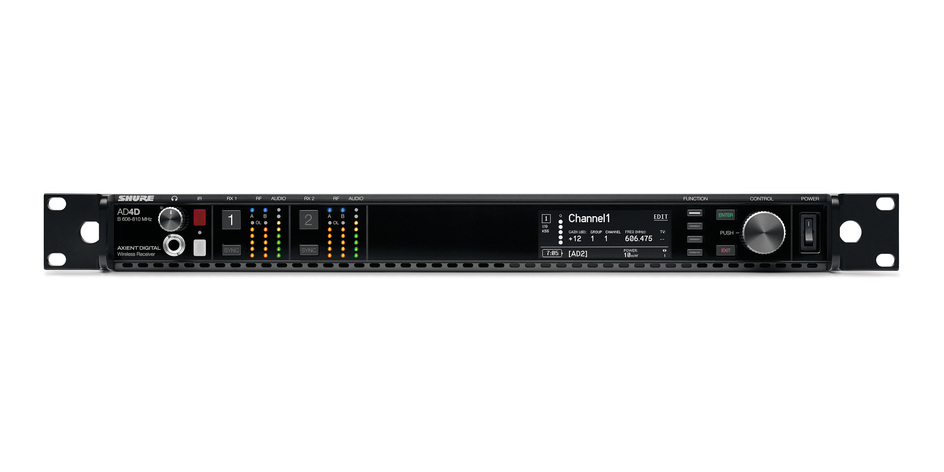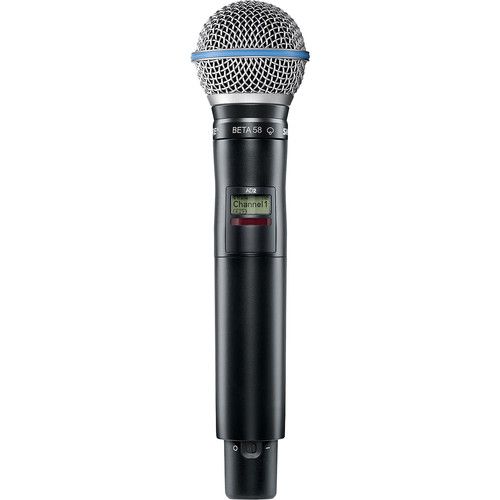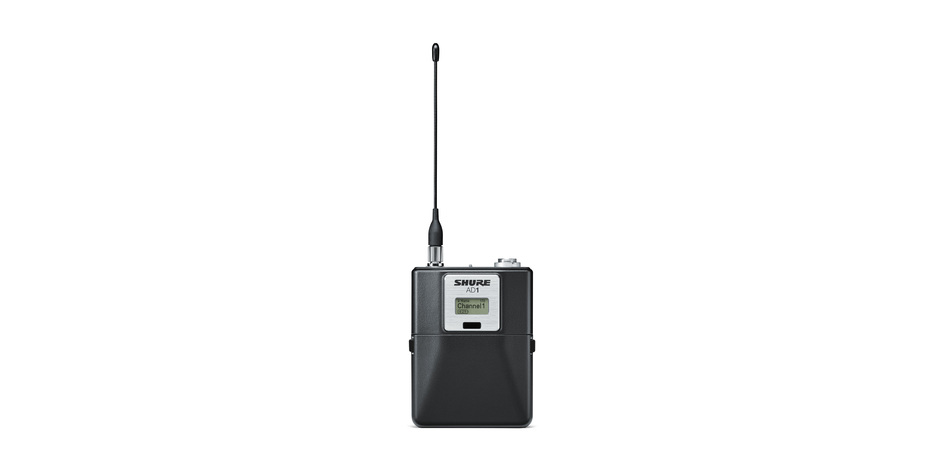 Mouse roll-over to zoom image.
Product Highlights
Comprehensive remote control of all transmitter parameters
Continuously monitor, evaluate, prioritize, queue and assign compatible UHF frequencies
Seamless, uninterrupted audio through simultaneous transmission on two independent frequencies
Detect and avoid frequency interference in a fraction of a second
Rentex No.

MIC0040
|
Mfr No. AD4D
The Axient® Wireless Management Network from Shure establishes a dramatic new threshold of control, convenience and confidence in RF transmission, reception and spectrum management for mission-critical audio applications.
Shure AD4D Axient Dual Receiver
Shure AD1 Axient Belt Pack
Shure AD2/SM58 Axient Handheld
Dimensions( H×W×D): 1.7 in. ×  19.0 in. × 13.1 in.
Weight: 10.1 lbs without antennas
Housing: Steel; Extruded aluminum
Power Requirements: 100 to 240 V AC, 50–60 Hz; 0.26 A max.
Thermal Dissipation: Maximum: 23 W (78 BTU/hr) Idle: 15 W (52 BTU/hr)
Audio Output
Gain Adjustment Range: –18 to +42 dB in 1 dB steps (plus Mute setting)
Configuration: 1/4″ (6.35 mm):  Transformer-coupled Balanced (Tip=audio, Ring=no audio, Sleeve=ground) XLR:  Transformer-coupled Balanced (1=ground, 2=audio +, 3=audio -)
Full Scale Output: 200 kΩ load
1/4″ (6.35 mm):  +8 dBV XLR:  LINE setting= +18 dBV, MIC setting= –12 dBV
Mic/Line Switch: 30 dB pad
Networking
Network Interface: 10/100 Mbps, 1 Gbps, Dante Digital Audio
Network Addressing Capability: DHCP or Manual IP address
Maximum Ethernet Cable Length: 100 m (328 ft)
Cascade Output
Connector Type: BNC
Configuration: Unbalanced, passive
Impedance: 50 Ω
Insertion Loss: 0 dB, typical
RF Input
Spurious Rejection: >80 dB, typical
Connector Type: BNC
Impedance: 50 Ω
Bias Voltage: 12–13.5 V DC, 150 mA maximum, per antenna, switchable on/off
RF Carrier Frequency Range: Model-dependent
AD4D=A: 470–636 MHz
AD4D=B: 606–810 MHz
AD4D=C: 750–960 MHz
Rent from a Partner, Not a Competitor
24/7 Sales
& Technical support

Same Day Delivery
to Most Major Cities

Competitive
Subrental Pricing

A Large Inventory of
High-Quality Equipment

Best-in-Class
QC Process

Rentex Locations
With locations across the country, Rentex can deliver to most major cities.

To reach local support, simply click on the location below. For Rental Emergency Support, call (866) 541-3465