Theatrixx xPressCue
4K media player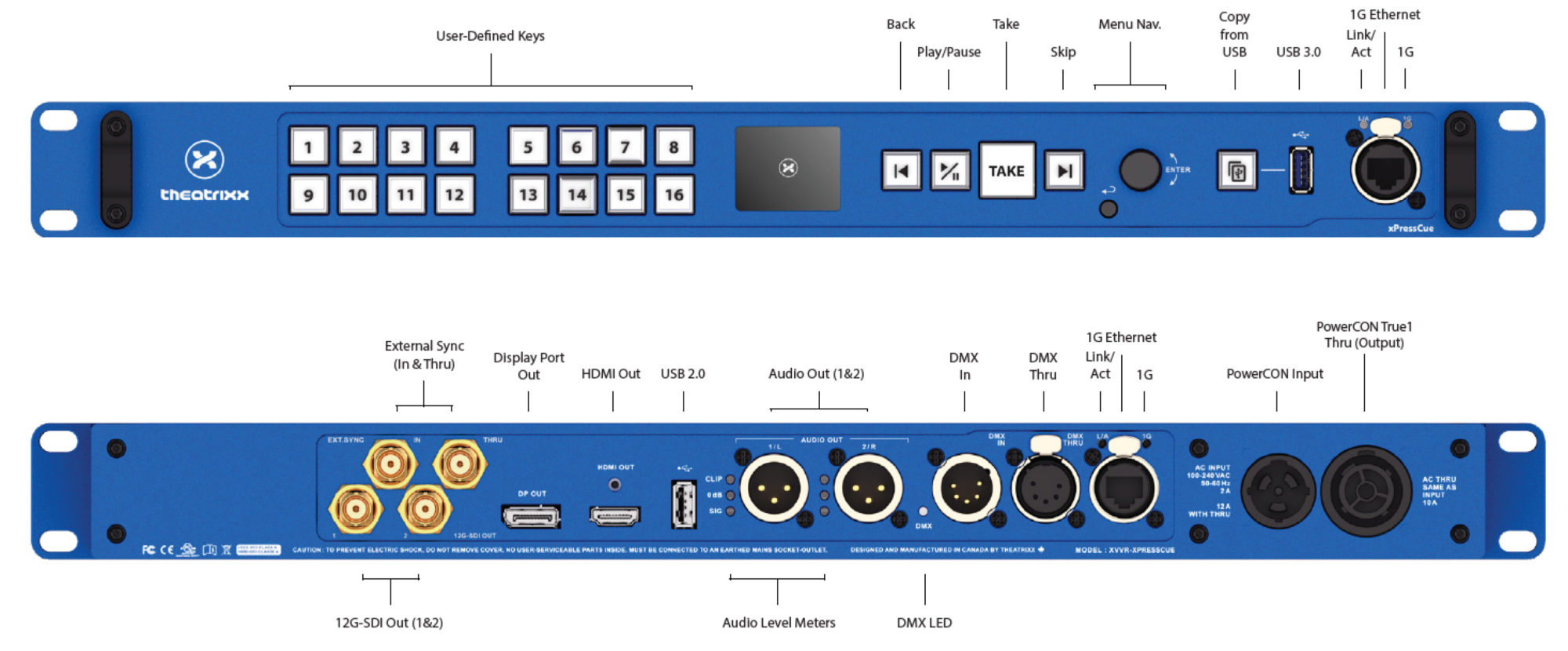 Mouse roll-over to zoom image.
Product Highlights
Seamless 4K playback from rugged, dedicated hardware with professional locking connections – True1 Power, XLR, SDI
HDMI 2.0, DisplayPort 1.4, and 12G-SDI with simultaneous output
Quick set-up and fast handling of last-minute media – unboxing to playback in less than 10 minutes
Broad file support including ProRes, h.264, MOV, MP4 and more
32-button Stream Deck XL included for quick access to Cues, Clips, and playback controls
When it comes to media playback, most professional solutions available today are either laptop-based, or media-server based. This often comes with a slew of reliability issues and a steep learning curve. The Theatrixx xPressCue is a hardware device designed to address the playback needs of the video, lighting and audio professionals.
Designed and manufactured by Theatrixx, xPressCue has a large 1TB onboard flash-based storage capacity. It can recognize and play most known video, audio and image files with a minimal loading delay. The device is equipped with the necessary hardware and software to make switching between two clips instant and seamless.
Failure is not an option in the pro-AV industry and so every precaution is taken on the hardware and software side to guarantee a continued smooth operation. The device is also housed in a durable rackmount 1U enclosure, equipped with professional, locking connectors including True1 Power, XLR audio, and 12G-SDI video.
The xPressCue can be controlled in several ways, including its on-board OLED display and encoder wheel, web-based interface, DMX and more. External devices such as the Elgato Stream Deck XL are supported natively, giving 32 immediate access buttons for clips, cue lists, and playback controls
STRMDCK32V – Elegato Stream Deck XL 32-key USB Control (Kit use)
SSTRMDCK32 – Stand, Elegato Stream Deck XL
CAT5E010 – CAT5e ethernet cable 10′
EDT16FTLP – Edison to True1 Power cable 6′ low power 18/3
NAN938XPC – Case, NANUK 938 Theatrixx xPressCue
Learn about the features and benefits of the xPressCue media player from Theatrixx.
Inputs/Outputs
 
Video Output
2 x 12G/6G/3G/HD SDI BNC
HDMI 2.0 type A with locking system DisplayPort 1.4
Audio Output
2 x Analog audio XLR (+4 dBu) with LED level meters
Multi-channel audio embedded on all video outputs
External Sync
Tri-level sync (BNC) with loop-thru (optional)
DMX Input
DMX-512 input and loop-thru on XLR5 with LED indicator
Ethernet
2 x Gigabit Ethernet ports on Neutrik Ether- CON locking connectors
USB
1 x USB 3.0 at front of device 1 x USB 2.0 at rear of device
Control
 
Local User Interface
20 user-programmable, RGB-backlit, broad- cast grade buttons
Full-color graphical OLED display with push- button encoder navigation
Web Interface
Cross-plaform, cross-browser web interface
External Controller Support
Native support for Elgato StreamDeck (all models)
DMX Control
Native DMX-512 input
DMX-over-IP inputs in sACN and ArtNet
Mutli-Device Sync
UDP-based synchronization across devices
Advanced Protocols
Self-documented HTTP REST API
Video Output
 
Output Processing
Built-in scaling engine, adjustable AOI (Area of Interest)
Full-range colorimetry adjustments (R, G, B and Saturation)
Full-range brightness adjustment
Output Resolutions
3840x2160P60, 3840x2160P50, 3840x2160P30, 3840x2160P29, 3840x2160P25, 3840x2160P24, 3840x2160P23, 1920x1080P60, 1920x1080P59, 1920x1080P50, 1920x1080P30, 1920x1080P29, 1920x1080P25, 1920x1080P24, 1920x1080P23, 1920x1080I60, 1920x1080I59, 1920x1080I50, 1280x720P60, 1280x720P59, 1280x720P50
Output Color Space
HDMI: YUV 4:2:0 (8 bpc), YUV 4:2:2 (8 bpc), YUV 4:4:4 (8, 10, 12 bpc), RGB 4:4:4 (8, 10, 12 bpc)
DisplayPort: YUV 4:2:0 (8 bpc), YUV 4:2:2 (8 bpc), YUV 4:4:4 (8 bpc), RGB 4:4:4 (8 bpc) 12G-SDI: YUV 4:2:2 (10 bpc)
Audio output
 
Audio Sample Rate
48KHz, 16 bit
Output Processing
Full-range audio volume adjustment
Media Storage
 
Storage Media
Professional M.2 solid-state drive (SSD)
Storage Capacity
1 TB
File Transfer
Via web interface or directly using the USB connectors
Media File Support
 
Media Types
Video, still image, audio
Decoding Engine
FFmpeg
Video Codecs
Apple MJPEG-B, Apple ProRes, DV, MPEG-1, MPEG-2, MPEG-4 part 2, H.264 / AVC / MPEG-4 AVC / MPEG-4 part 10, HEVC, QuickTime (v210 / v308 / v408 / v410), WMV, FLV1/Sorenson
Audio Codecs
AAC, AAC+, AC-3, Apple lossless audio, MP1, MP2, MP3, MPEG-4 ALS, PCM, WMA
Still Image Formats
JPEG, JPEG-2000, PNG, BMP, GIF, TIFF
Physical Specifications
 
Height
43.43 mm (1.7 in) -1 RU
Depth
178 mm (7 in)
Width
482.6 mm (19 in)
Weight
3.75 kg (8.25 lbs)
Environmental Specifications
 
Relative Humidity
0% to 90% non-condensing
Operating Temperature
0-40 °C
Power requirements
 
Power Supply
Built-in power supply
PowerCON True1 in / loop-thru
Power Consumption
80W max
Voltage Range
100-240V, 50-60Hz
Rent from a Partner, Not a Competitor
24/7 Sales
& Technical support

Same Day Delivery
to Most Major Cities

Competitive
Subrental Pricing

A Large Inventory of
High-Quality Equipment

Best-in-Class
QC Process

Rentex Locations
With locations across the country, Rentex can deliver to most major cities.

To reach local support, simply click on the location below. For Rental Emergency Support, call (866) 541-3465