Doug Fleenor Design 1×5 Opto/Iso
DMX Splitter / Amplifier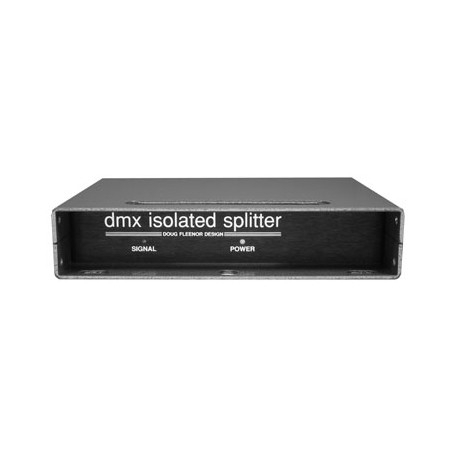 Mouse roll-over to zoom image.
Product Highlights
Input is electrically isolated from output
Outputs are separately buffered
Powder coated 1/10″ aluminum chassis
Uses 2500 Volt optical couplers
Forty times faster than DMX data rate
The DMX splitter is available in five outputs from a single DMX input. Each output is electrically isolated from the input, and from every other output, by 2500 volt optical couplers.  Each output has its own line driver and associated power supply. The DMX splitter allows connection of DMX receivers (dimmers, color changers, moving lights, etc.) in a star configuration as opposed to a daisy chain  configuration.  In a star configuration, each control cable is run to a central point, in this case the splitter.
Input circuit:  EIA-485 receiver with 120 ohm termination resistor between +Data and -Data (Units with feed through connectors do not have internal termination)
Input signal:  0.2 volts minimum, 12 volts maximum
Output circuit:  EIA-485 driver
Connectors:  Gold plated 5 pin Neutrik D-1 Series (3 pin connectors, terminal blocks, or RJ45 optional)
Feed through:  A non-isolated feed through connector is standard on the eleven output model and is optional on the one, three, and five output models.
Isolation:  2500 volt optical coupler, 1500 volt split bobbin transformer
Power input:  100 – 120 volts, 50/60 hertz, 12 watts (208 – 240 volt optional)
Color:   Top, bottom and sides: Silver hammer tone
Front and back: Black
Rent from a Partner, Not a Competitor
24/7 Sales
& Technical support

Same Day Delivery
to Most Major Cities

Competitive
Subrental Pricing

A Large Inventory of
High-Quality Equipment

Best-in-Class
QC Process

Rentex Locations
With locations across the country, Rentex can deliver to most major cities.

To reach local support, simply click on the location below. For Rental Emergency Support, call (866) 541-3465