Theatrixx – xVision Nomad 2.6
Theatrix xVision Nomad 2.6 is a perfect solution from general AV production to XR production setups.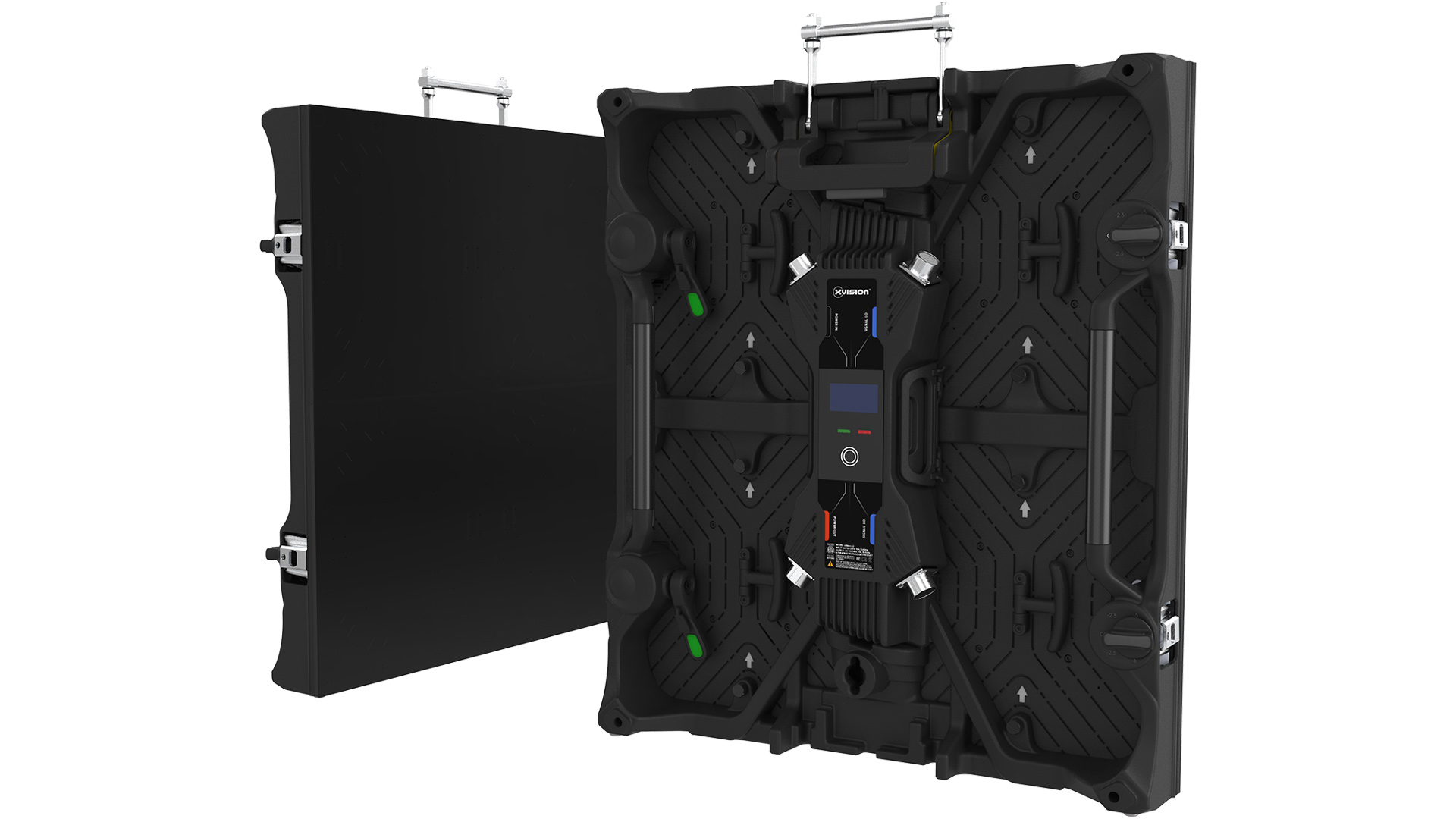 Mouse roll-over to zoom image.
Product Highlights
Unique, proprietary TPEP (Titanium/Polymer Edge Protection) technology provides unparalleled module protection and durability
High-endurance design built for demanding environments translates greater return on investment (ROI) than any other traditional fine-pitch LED technology.
High refresh rate of 7,680 Hz provides the greatest dynamic range and grayscale depth, especially at lower brightness settings.
Curvable at +/- 2.5 and 5 degrees using proven rotary angle hub system
Rear serviceable but can be converted to front service thanks to magnetic modules.
The xVision Nomad is a true AV workhorse. Packed with features and housed in a rugged frame, it is the first xVision product to feature Theatrixx's proprietary TPEP technology (Titanium Polymer Edge Protection). This makes it highly durable and ideal for daily AV rental, general productions, and XR applications. It is also amongst the first LED displays on the market to boast a 7,680 Hz refresh rate, making it ideal for XR productions thanks to its increased dynamic range. Theatrixx offers a well-rounded, complete solution with a full line of matching flight cases, ground support, rigging accessories, and power distribution systems.
DOUBLEHEAD xVision Nomad double header
EXBASE1W Exact Stacking Base – 1X xVision Nomad HD2.6
EXBASE2W Exact Stacking Base – 2X xVision Nomad HD2.6
EXBRACKETC Exact Bracket – Curved xVision Nomad HD2.6
EXBRACKETS Exact Bracket – Straight xVision Nomad HD2.6
EXLADDER Exact Ladder Frame – 1M xVision Nomad HD2.6
EXM10BOLT Exact M10 Bolt xVision Nomad HD2.6
EXSKIFRAME Exact ski frame xVision Nomad HD2.6
EXSKIFTSNG Exact SKI Single Foot for xVision Nomad HD2.6
EXSTAKEXT Exact Stacking Extension Long xVision Nomad HD2.6
EXVERTSPRT Exact Vertical Support Long xVision Nomad HD2.6
NOMAD26BOX XVision Nomad LED 2.6mm Back Box
NOMAD26Q XVision Nomad LED 2.6mm Quadrant
SINGLEHEAD xVision Nomad single header
XVT9TRNARN Nomad- XVT9 chassis to XVT9 chassis
XVT92ETRCN Nomad – XVT9 chassis to etherCON
515P2XVT3 Nomad- 5-15P Female XVT3-1203SJOOW-CSA 6′
SOCA6XXVT3 Male CEEP 19pins 6X Female XVT3 Nomad Soca
XVT3NOMAD XVT3 – 1203SJOOW – CSA – 4′ Nomad power cable
DURACAT6E XVT9 – DuraCAT UTP CAT6E – 3′ Nomad data
| | |
| --- | --- |
| Pixel | |
| LED package | RGB SMD 1515 3-in1 LED |
| Pixel pitch | 2.604 mm |
| Mechanical | |
| Cabinet resolution | 192 x 216 px |
| Cabinet dimensions | 500 x 562.5 mm (19.68×22.15 in) |
| Cabinet weight | 8.5 kg (17.6 lbs) |
| Cabinet thickness | 80 mm (3.15 in) |
| Cabinet material | Cast & milled aluminium alloy |
| Module resolution | 96 x 108 mm |
| Module dimensions | 250 x 281.25 mm |
| Curveability | Unique rotatory-locking system for 0, +/- 2.5 & 5° |
| Installation & serving | Front access to all components and mounting points |
Rent from a Partner, Not a Competitor
24/7 Sales
& Technical support

Same Day Delivery
to Most Major Cities

Competitive
Subrental Pricing

A Large Inventory of
High-Quality Equipment

Best-in-Class
QC Process

Rentex Locations
With locations across the country, Rentex can deliver to most major cities.

To reach local support, simply click on the location below. For Rental Emergency Support, call (866) 541-3465