Panasonic PT-RZ770
7,200 Lumens 1-Chip DLP Laser Projector
Rentex No.

7100
|
Mfr No. PT-RZ770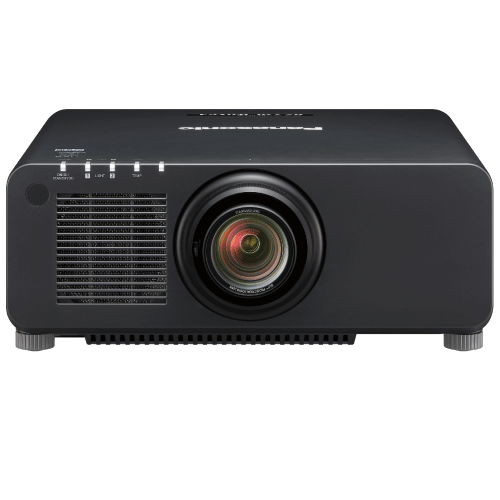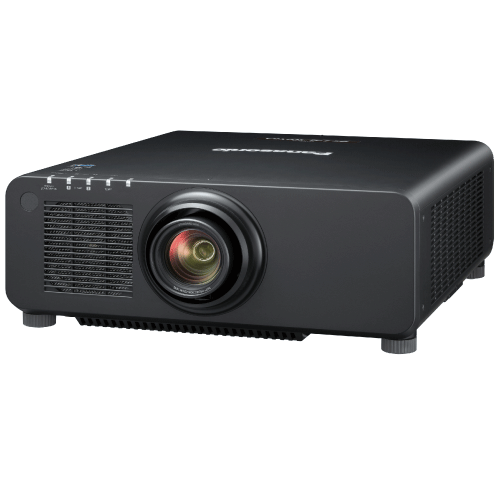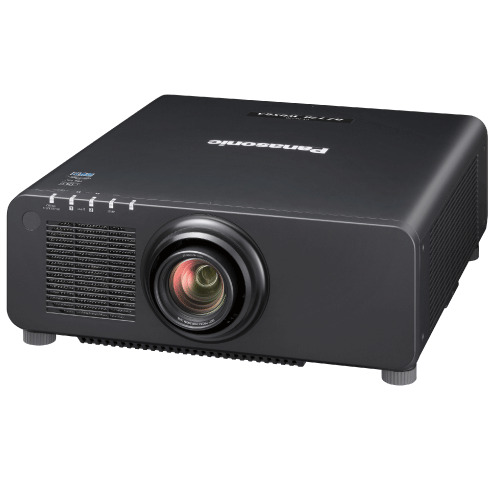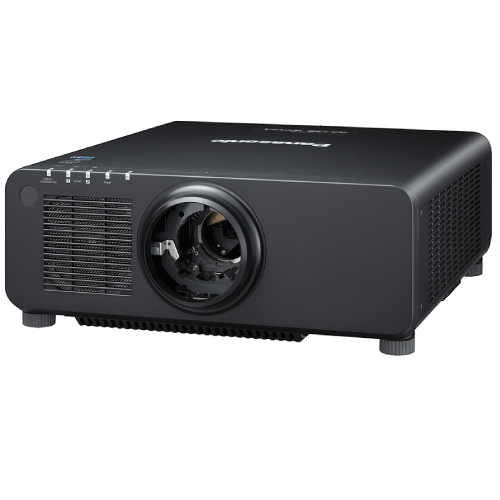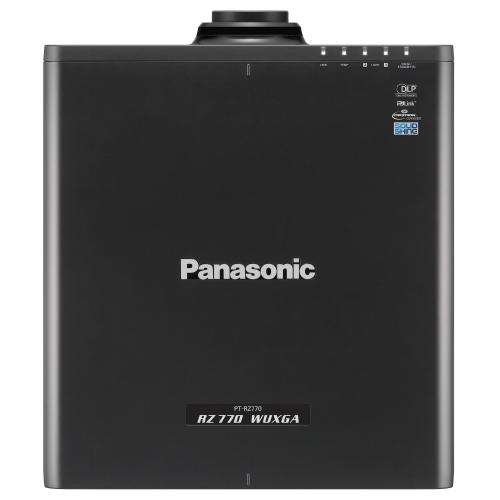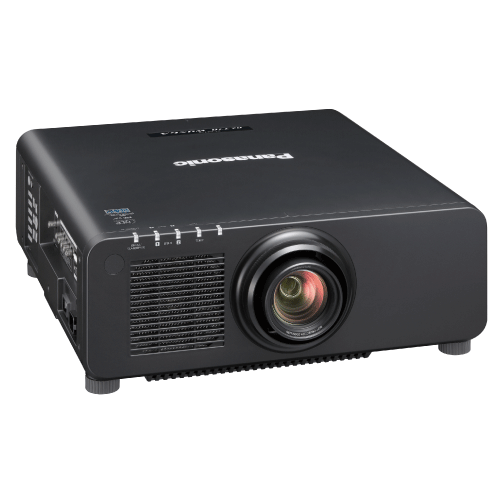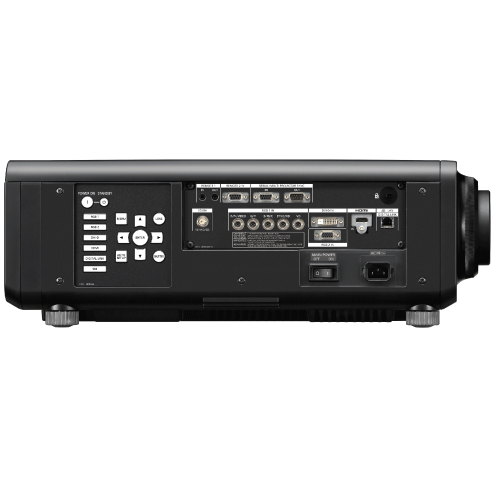 Product Highlights
1-Chip DLP™ Imaging and SOLID SHINE Laser Technology Deliver Superior White-balance and Color Accuracy
Dynamic Light Control for 10,000:1 Contrast
Detail Clarity Processor 3 Improves Image Clarity, Detail, and Depth
Dual-Drive Laser Optical Engine Ensures Reliable 24/7 Operation with Light-source Failover Protection Circuitry
Requires 100-240V AC Edison Plug
System Daylight View 3 Ensures Crisp Images for Projection Mapping and Brightly Lit Indoor Environments
Lens Options:
Wide spectrum color with up to 7.200 lm (center) brightness
With the next generation of the DLP™ technology the RZ770 series is delivering high resolution in detail and the dual laser modules outputting a brightness of up to 7.200 lm (center). Due to the quartet color harmonizer the energy loss of the light source is reduced and the robust and heat resistant phosphor wheel of the PT-RZ770 solid shine laser series produces scintillating images with unfailing reliability.
Outstanding white balance and color reproduction
The quartet color harmonizer wheel mechanism captures a wider color space than comparable laser projectors, which allows white to be reproduced realistically on the screen. With conventional projectors it's difficult to achieve an accurate white balance causing images to appear with a distracting greenish tint. Panasonic's quartet color harmonizer eliminates this negative impact by adding an additional yellow segment to the color wheel to produce whites with unparalleled accuracy for natural and realistic picture quality.
Maintain image quality for longer use
Thanks to the long lasting dual solid state laser modules, there are no lamps which needs to be replaced. The image colors and brightness degrades very gradually in consistent, linear fashion. As well as reducing maintenance hassle, out-of-the-box picture quality preserves longer
Dynamic light control delivers better contrast
The PT-RZ770 series directly modulates laser power output to achieve a high contrast with low power consumption. A digitally controlled frame-by-frame scene-linking modulation ensures highly precise output adjustment, while the accurate 10.000:1 contrast ratio is delivered even when bright and dark scenes are frequently interchanging.
Vivid images in bright environments
Panasonics premium system daylight view 3 prevents images from washing cut in well-lit environments and enhances brightness perception in multi-projector mapping applications by adjusting sharpness and gamma curves and correcting colors. The result is a greater visual impact even in challenging conditions.
Detail clarity processor 3 – Sharpness in the finest details
This unique Panasonic circuit optimizes the sharpness of each image based on the super high, high, medium and low frequency components of the extracted image information. The resulting images are expressed with natural and convincing realism.
Model
PT-RZ770/RZ660
Power supply
100-240 V AC, 10.4-5.0 A, 50/60 Hz
Power consumption*1
PT-RZ770/ RW730
825 W, (593 W with OPERATING MODE set to NORMAL, 508 W with OPERATING MODE set to ECO, 333-477 W with OPERATING MODE set to LONG LIFE 1, 310-477 W with OPERATING MODE set to LONG LIFE 2, 286-477 W with OPERATING MODE set to LONG LIFE 3, 72 W with OPERATING MODE set to SHUTTER) (0.2 W with STANDBY MODE set to ECO, 3 W with STANDBY MODE set to NORMAL, 85 W with QUICK STARTUP set to ON.)
PT-RZ660/ RW620
700 W, (499 W with OPERATING MODE set to NORMAL, 428 W with OPERATING MODE set to ECO, 287-402 W with OPERATING MODE set to LONG LIFE 1, 262-402 W with OPERATING MODE set to LONG LIFE 2, 238-402 W with OPERATING MODE set to LONG LIFE 3, 69 W with OPERATING MODE set to SHUTTER) (0.2 W with STANDBY MODE set to ECO, 3 W with STANDBY MODE set to NORMAL, 85 W with QUICK STARTUP set to ON.)
DLP™ chip
Panel size
17.0 mm (0.67 in) diagonal (16:10 aspect ratio)
Display method
DLP™ chip x 1, DLP™ projection system
Pixels
2,304,000 (1,920 x 1,200) pixels
Lens
Powered zoom (throw ratio 1.7-2.4:1), powered focus F 1.7-1.9, f 25.6-35.7 mm
Light source
Laser diodes laser Class 1 (Class 3R for US models), light source life*2: 20,000 hours (Normal Mode) / 24,000 hours (Eco Mode). At this time the brightness will have decreased to approximately half of its original level.
Screen size (diagonal)
1.27-15.24 m (50-600 in),  1.27-5.08 m (50-200 in) with the ET-DLE055, 2.54-8.89 m (100-350 in) with the ET-DLE030,  16:10 aspect ratio
Brightness
PT-RZ770: 7,200 lm (Center)*2/7,000 lm*3 PT-RZ660: 6,200 lm (Center)*2/6,000 lm*3
Center-to-corner uniformity*3
90 %
Contrast*3
10,000:1 (Full on/off, with Dynamic Contrast Mode set to "3" )
Resolution
1,920 x 1,200 pixels
Scanning frequency
SDI
SD-SDI
SMPTE ST 259 compliant, [YCBCR 4:2:2 10-bit] 480i(525i), 576i(625i)
HD-SDI
SMPTE ST 292 compliant, [YPBPR 4:2:2 10-bit] 720(750)/60p, 720(750)/50p, 1080(1125)/60i, 1080(1125)/50i, 1080(1125)/25p, 1080(1125)/24p, 1080(1125)/24sF, 1080(1125)/30p
3G-SDI
SMPTE ST 424 compliant, [RGB 4:4:4 12-bit/10-bit] 1080(1125)/60i, 1080(1125)/50i, 1080(1125)/25p, 1080(1125)/24p, 1080(1125)/24sF, 1080(1125)/30p, [YPBPR 4:2:2 10-bit] 1080(1125)/60p, 1080(1125)/50p
HDMI/DVI-D/ DIGITAL LINK
480i (525i)*4, 576i (625i)*4, 480p (525p), 576p (625p), 720 (750)/60p, 720 (750)/50p, 1080 (1125)/60i, 1080 (1125)/50i, 1080 (1125)/25p, 1080 (1125)/24p, 1080 (1125)/24sF, 1080 (1125)/30p, 1080 (1125)/60p, 1080 (1125)/50p, VGA (640 x 480)–WUXGA*5 (1920 x 1200) (compatible with non-interlaced signals only), dot clock: 25–162 MHz
RGB
fH: 15-100 kHz, fV: 24-120 Hz, dot clock: 20-162 MHz.
YPBPR (YCBCR)
fH: 15.75 kHz, fV: 60 Hz [480i (525i)] fH: 15.63 kHz, fV: 50 Hz [576i (625i)] fH: 45.00 kHz, fV: 60 Hz [720 (750)/60p] fH: 33.75 kHz, fV: 60 Hz [1035 (1125)/60i] fH: 28.13 kHz, fV: 50 Hz [1080 (1125)/50i] fH: 27.00 kHz, fV: 24 Hz [1080 (1125)/24p] fH: 33.75 kHz, fV: 30 Hz [1080 (1125)/30p] fH: 56.25 kHz, fV: 50 Hz [1080 (1125)/50p]

fH: 31.50 kHz, fV: 60 Hz [480p (525p)] fH: 31.25 kHz, fV: 50 Hz [576p (625p)] fH: 37.50 kHz, fV: 50 Hz [720 (750)/50p] fH: 33.75 kHz, fV: 60 Hz [1080 (1125)/60i] fH: 28.13 kHz, fV: 25 Hz [1080 (1125)/25p] fH: 27.00 kHz, fV: 48 Hz [1080 (1125)/24sF] fH: 67.50 kHz, fV: 60 Hz [1080 (1125)/60p]

Video/YC
fH: 15.75 kHz, fV: 60 Hz [NTSC/NTSC4.43/PAL-M/PAL60], fH: 15.63 kHz, fV: 50 Hz [PAL/PAL-N/SECAM]
Optical axis shift*6
Vertical
+50 %, -16 % (powered)
Horizontal
+30 %, -10 % (+28 %, -10 % with ET-DLE085) (powered)
Keystone correction range
Vertical: ±40 ° (±22 ° with ET-DLE085/DLE055, +5 ° with ET-DLE030), horizontal: ±15 ° (cannot be operated with ET-DLE030)
Keystone correction range with  the optional upgrade kit ET-UK20
Vertical: ±45° (±40° with the ET-DLE150/ET-DLE250/ supplied lens, ±22° with the ET-DLE085/ET-DLE055), horizontal: ±40° (±15° with ET-DLE085/ET-DLE055), Up to a total of ±55 ° during simultaneous horizontal and vertical correction.
Installation
Ceiling/floor, front /rear, free 360-degree installation
Terminals
SDI IN
BNC x 1 (3G/HD/SD-SDI)
HDMI IN
HDMI 19-pin x 1 (Deep Color, compatible with HDCP)
DVI-D IN
DVI-D 24-pin x 1 (DVI 1.0 compliant, compatible with HDCP, compatible with single link only)
RGB 1 IN
BNC x 5 (RGB/YPBPR/YCBCR/YC/Video x 1)
RGB 2 IN
D-Sub HD 15-pin (female) x 1 (RGB/YPBPR/YCBCR x 1)
SERIAL/ MULTI PROJECTOR SYNC IN
D-sub 9-pin (female) x 1 for external control (RS-232C compliant)
SERIAL/ MULTI PROJECTOR SYNC OUT
D-sub 9-pin (male) x 1 for link control
REMOTE 1 IN
M3 x 1 for wired remote control
REMOTE 1 OUT
M3 x 1 for link control (for wired remote control)
REMOTE 2 IN
D-sub 9-pin (female) x 1 for external control (parallel)
LAN/DIGITAL LINK
RJ-45 x 1 (for network, DIGITAL LINK connection, 100Base-TX, compatible with Art-Net, PJLink™)
Cabinet materials
Molded plastic
Dimensions (W x H x D)
with supplied lens
498 x 200*7 x 581 mm (19-19/32 x 7-7/8*7 x 22-7/8 in) (with supplied lens)
without lens
498 x 200*7 x 538 mm (19-19/32 x 7-7/8*7 x 21-3/16 in) (without lens)
Weight*8
with supplied lens
PT-RZ770: Approx. 23.2 kg (51.1 lbs) PT-RZ660: Approx. 23.1 kg (50.9 lbs)
without lens
PT-RZ770: Approx. 22.4 kg (49.4 lbs) PT-RZ660: Approx. 22.3 kg (49.2 lbs)
Noise level*3
PT-RZ770/RW730: 36 dB