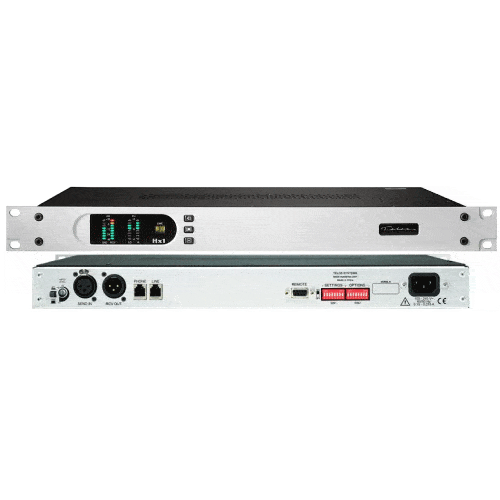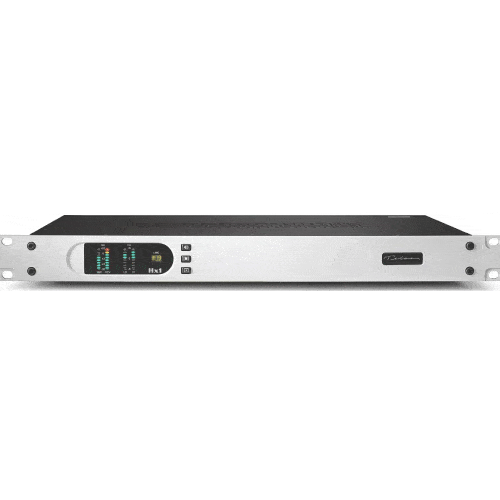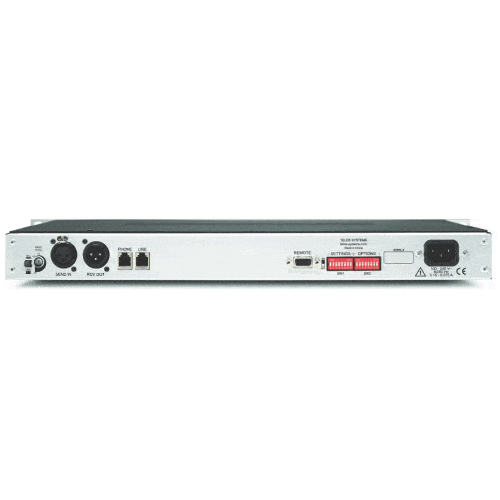 Mouse roll-over to zoom image.
Product Highlights
Input/output via analog XLR
Input switchable between MIC or LINE levels
New EQ High and EQ Low display meters
Advanced hybrid algorithms
Digital Dynamic EQ and adjustable smart leveler keeps audio spectrally consistent from call to call
Rentex No.

TELOSHX1
|
Mfr No. TEL-200100242/HX1
The Telos Hx1 represents the highest state-of-the-art in hybrid performance, with Telos processing technologies that take the POTS hybrid to a new level of consistently superior performance, regardless of telephone line characteristics.
Inside the single-hybrid Hx1, you'll find advanced hybrid technology with new features that significantly sweeten and control caller audio. It comes standard with Auto-Answer, caller disconnect detection, sophisticated new audio-leveling and anti-feedback routines for enhanced open-speaker applications, call screening and line-hold features, front-panel send and receive audio metering, plus much more.
General 
Telos 3rd-generation Adaptive Digital Hybrid.
Telos Exclusive Feedback Reduction Functions.
Send-to-Caller Processing: High-pass Filter, Frequency Shifter, AGC/Limiter, Sample Rate Conversion (with AES option).
Receive-From-Caller Processing: High-pass "Hum" Filter, Smart AGC / Platform Leveler, Noise Gate, Telos DDEQ (Digital Dynamic Equalization) 3-band Adaptive Spectral Processor, Sample Rate Conversion (with AES option)
Analog Inputs
Send Analog Inputs: 1 for Hx1, 2 for Hx2 (one per hybrid)
Connector : XLR Female, Pin 2 High (Active Balanced with RF Protection)
Input Range: Selectable between MIC and LINE levels
Line Input Level: Adjustable from -10dBV to +8 dBu (nominal)
Analog Clip Point : +21 dBu
Impedance: Bridging, > 50 Ohms
Analog-to-Digital Converter Resolution: 24 bits
Analog Outputs
Receive Analog Outputs: 1 for Hx1, 2 for Hx2 (one per hybrid)
Connector: XLR Male, Pin 3 High (Active Balanced, RF suppressed
Output Level: Nominal +4 dBu, fixed
Impedance: < 50 Ohms
Digital-to-Analog Converter Resolution: 24 bits
Headroom Before Clipping: 20 dB headroom above 4 dBU nominal levels
AES3 Digital Inputs/Outputs (optional)
Plug-in module converts standard analog XLR inputs and outputs to AES3 (one input or output on left channel of AES stream)
Conforms to AES3 standard
Sample rates: 32kHz to 48kHz.
Rate conversion: Input and output, independently selectable
Output Clock: AES input or 48kHz internal.
Input Level: Nominal at -20 dBFs.
Output Level: Nominal at -20 dBFs
Audio Performance
Frequency Response: 200 to 3400 Hz, +/- 1 dB
THD+N: < 0.5% THD+N using 1 KHz sine wave
Dynamic Range: Analog in to Analog out, studio loop mode, 10Hz-20Khz. A-weighted: > 92 dB
SNR: Analog output, referred to -12dBm phone line signal (+4dBu studio out), 10Hz-20Khz a-weighted: > 72 dB
Trans-Hybrid Loss: Analog phone line with ducking, gate, AGC, EQ
all OFF relative to +4dBu input level: >55 dB
Analog Telephone Line Connectivity 
Universal interface for worldwide application. Programmable loop current, ring signaling, and flash time. Includes caller ID decoding using Bellcore 212 modem standard.
Power Supply 
Type: Internal auto-ranging, 90–265 VAC auto-switching, 50–60 Hz.
Power consumption: 100 Watts.
Rent from a Partner, Not a Competitor
24/7 Sales
& Technical support

Same Day Delivery
to Most Major Cities

Competitive
Subrental Pricing

A Large Inventory of
High-Quality Equipment

Best-in-Class
QC Process

Rentex Locations
With locations across the country, Rentex can deliver to most major cities.