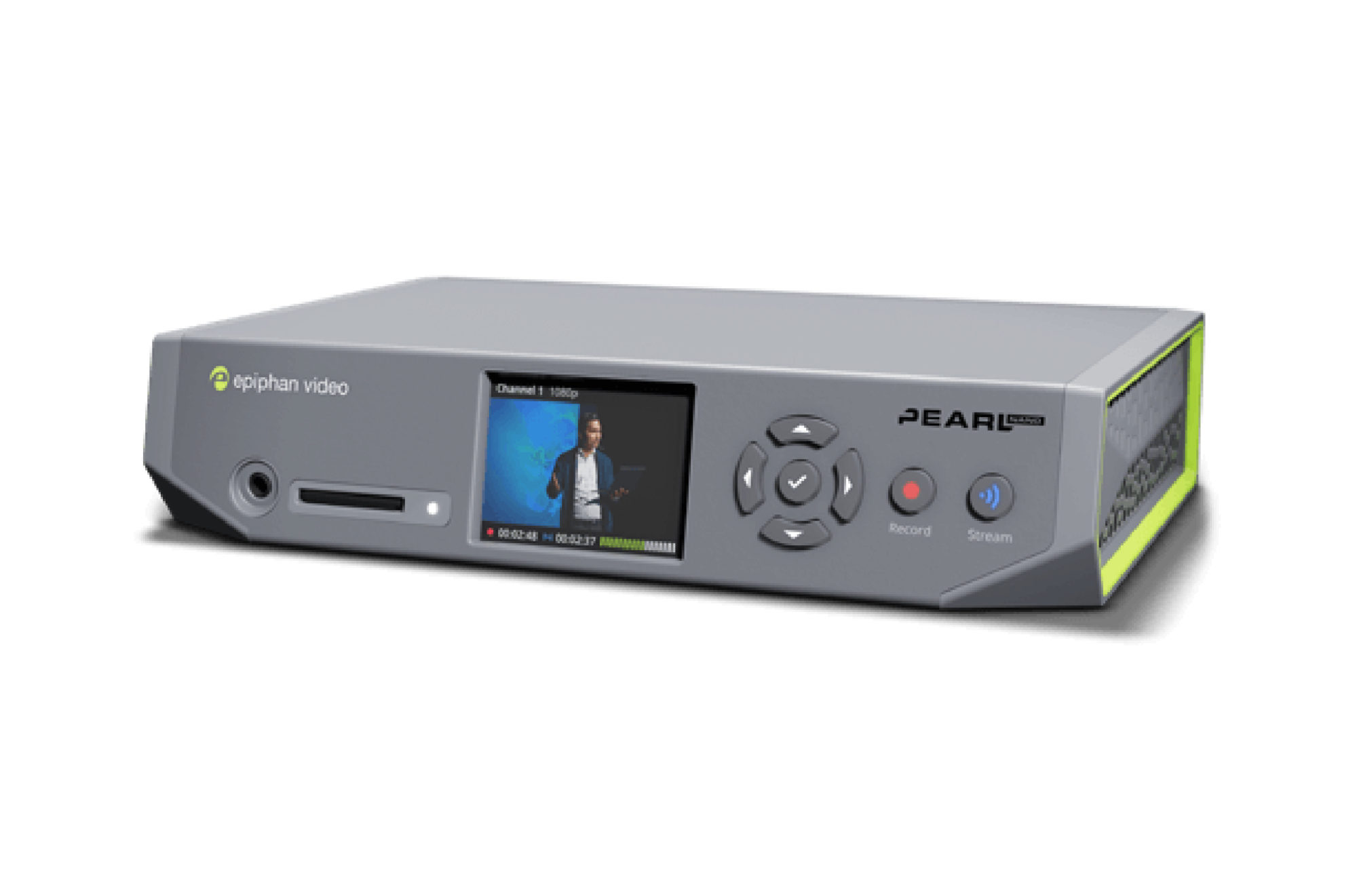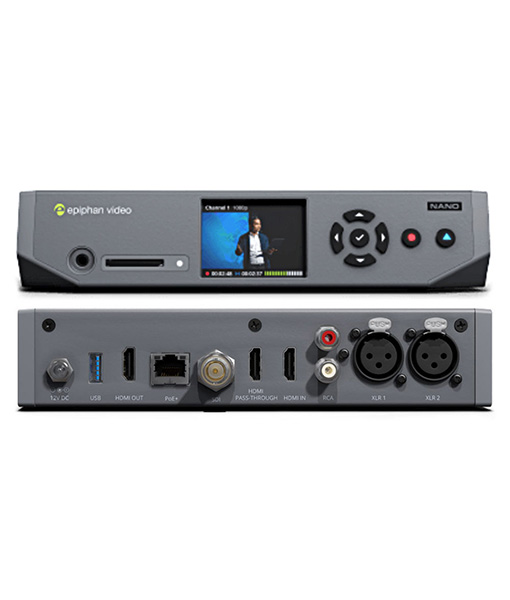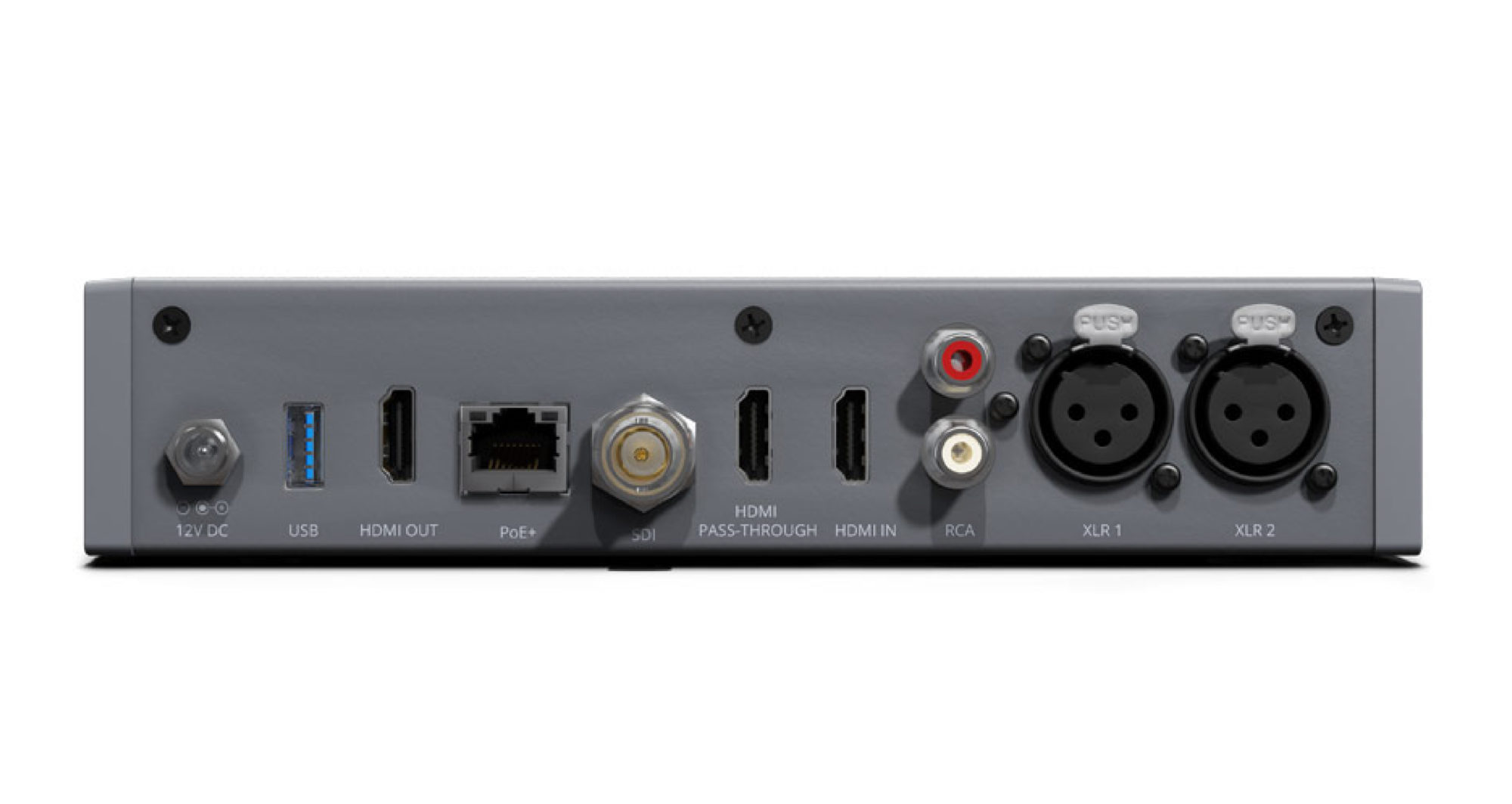 Mouse roll-over to zoom image.
Product Highlights
Simultaneously Record and Stream in H.264/AVC or H.265/HEVC
Easy file transfer (USB or Network)
SRT Encoding and Decoding
Front screen for monitoring and easy configuration
HDMI & SDI Inputs (+XLR or RCA Audio), HDMI loop and Program output
The Epiphan Pearl Nano is a compact and versatile single channel streamer, encoder, decoder and recorder capable of filling multiple roles.
Lay out multiple sources together in the Program feed, including physical SDI/HDMI inputs and network stream sources by RTSP or SRT, together with text and images. Use any of the embedded, XLR, and RCA audio with individual level and delay controls. Display either a Multiviewer or the Program feed locally through the HDMI Output, while recording and streaming the Program in h.264 or h.265.
Outbound stream protocols include RTMP, SRT, RTSP, MPEG-TS, RTP/UDP, HLS, and DASH which covers all major social media, video conferencing, and content services. Direct CMS integration is also available for Kaltura and Panopto.
Low latency, High quality SRT streaming enables secure and reliable point-to-point links over local and public networks (the internet), and the SRT Rendezvous system as found in the Pearl series even simplifies connecting through unknown firewall systems found on site. This enables the Pearl Nano to quickly send to or receive from another Pearl unit for multi-site events. SRT is also integrated into other products such as the Panasonic AW-UE100 and UE150 4K PTZ cameras and AG-CX350 4K Camcorder, enabling the Pearl Nano to receive SRT over network directly from those cameras.
Installed in our Pearl Nano units is a 500gb SSD drive to ensure recording is always available. This disables the front SD Card port but eliminates the need to use the EXT4 file system that is not natively recognized in Windows or macOS. After recording, files can be set for automatic upload to USB or individually transferred, or the Nano can be set to send recordings directly to network storage.
Video inputs
Local video inputs:
(1) 12G SDI
(1) HDMI™ 2.01
Video over Ethernet3:
(1) RTSP
(1) SRT (push)
Connectors:
(1) BNC (female)
(1) HDMI type A (female)
(1) RJ-45
Aspect ratios:
3:2, 4:3, 16:9, 16:10, and custom aspect ratios
Standard resolutions:
PAL, PAL wide, NTSC, NTSC wide
Input resolution range:
640×480 to 1920×1080
Frame rate:
Up to 60 fps
Video input color spaces:
HDMI: RGB 4:4:4, YCRCB 4:2:2, YCRCB 4:4:4
SDI: RGB 4:4:4, YCRCB 4:2:2
Deinterlacing:
Yes
Maximum cable length for SDI:
300 ft
Maximum cable length for USB 3.0:
6 ft
Audio inputs
Analog audio inputs:
(2) XLR pro line level (+4.0 dBu) up to 12.3 VRMS +24 dBu (balanced/unbalanced, mono or two L/R stereo pairs)
(1) RCA consumer line level -10 dBV (L/R stereo pair)
Connectors:
(2) XLR (female)
(2) RCA (female)
Digital audio inputs4:
(1) SDI5
(1) HDMI6
(1) USB
(1) RTSP (from RTSP input over Ethernet)
(1) SRT (from SRT input over Ethernet)
Connectors:
(1) SDI (female)
(1) HDMI (female)
(1) USB (female)
(1) RJ-45 (female)
Audio gain control:
0 dB to +30 dB
Audio mute:
Yes
Configurable audio delay:
-300 ms to +300 ms
Video processing
Video output color space:
4:2:0, 8 bits per color
Video codec:
H.264/AVC (ITU H.264, ISO/IEC 14496-10) 4:2:0, 8-bit color
– Encoding profile: High, Main, Baseline
– Profile levels: 3.0, 3.1,3.2,4.0,4.1, 5.1

H.265/HEVC (ITU H.265, ISO/IEC 23008-2:2013) 4:20, 8-bit color
– Encoding profile: Main
– Profile levels: 5.1

Bitrate:
1 to 50 Mbps (selectable)
Bitrate control:
Constant
Video scaling:
Software and hardware
Key frames:
1/2 s, and 1 s up to 5 s in 1 second intervals
Audio processing
Compression:
MP3, AAC, and PCM
Sampling rate:
MP3: 22 kHz, 44 kHz, 48 kHz
AAC: 16 kHz, 22 kHz, 44 kHz, 48 kHz
PCM: 22 kHz, 44 kHz, 48 kHz
Bitrate:
64 to 320 kbps (MP3 and AAC)
Video output
Signal types:
(1) HDMI 2.0 (port 1)
(1) HDMI 2.0a pass-through (port 2)
(1) H.264/AVC digital video over Ethernet
(1) RTSP
(1) SRT (push)
(1) HLS (push)
(1) MPEG-DASH (push)
Connectors:
(2) HDMI
(1) RJ-45 (female)
Encoded channels:
One 1080p channel at 60 fps with up to two full HD video sources (recommended)
Streaming protocols:
MPEG-TS and FLV
RTSP over TCP/UDP
RTMP/RTMPS
SRT (push) over UDP
HLS (push) over HTTP/HTTPS
MPEG-DASH (push) over HTTP/HTTPS
HLS (pull) – Native Apple HTTP/HTTPS stream for iPad, iPhone, and iPod Touch
Stream encryption and authentication:
SRT: 128 bits, 192 bits, or 256 bits AES encryption (negotiated) and configurable passphrase
HLS (push): MD5, SHA-256, and SHA-512
MPEG-DASH (push): MD5, SHA-256, and SHA-512
RTMPS: encryption plus CA certificate negotiation
Resolution ranges:
Recorded: 480p to 1080p
Streamed: H.264: 480p to 1080p
HDMI output ports: 480p to 1080p
Frame rate:
Up to 60 fps
Formats:
H.264/AVC (ITU H.264, ISO/IEC 14496-10) 4:2:0, 8-bit color
– Encoding profile: High, Main, Baseline
– Profile levels: 3.0, 3.1,3.2,4.0,4.1
Audio output
Analog audio output:
(1) 3.5 mm stereo headphone jack
Digital audio outputs:
RTSP and SRT audio over Ethernet
HLS and MPEG-DASH audio over HTTP/HTTPS
HDMI audio (embedded)
Monitor and control
Front screen:
2.2 inch screen monitor (built in) resolution: 320×240
Control key interface:
Front panel control keys and multi-function keys
USB keyboard:
Connect a standard USB keyboard (optional)
USB status light:
Connect a single USB status light (optional); supported models:
– Kuando BusyLight UC Alpha and UC Omega
– Delcom Products USB HID single-color and multi-color signal indicators
Recording and storage
| | |
| --- | --- |
| Record formats: | AVI, MOV, MP4, and MPEG-TS |
| Upload image formats: | JPEG, PNG |
| SD card: | Up to 512 GB7,8 |
| File system for SD card: | EXT4 |
| Internal storage: | SATA M.2 2280 SSD storage7 (M Key connector) |
| File transfer protocols: | FTP, SFTP, SCP, AWS S3 client, and WebDAV client RSync |
| Network file share protocols: | CIFS/SMB |
| File system for USB storage: | FAT16, FAT32, XFS, EXT2, EXT3, EXT4, NTFS |
| External USB ports: | (1) USB 3.0 (UAC) |
| Bitrate: | Up to 50 Mbps |
Communication
USB standards:
USB 1.1, USB 2.0, and USB 3.0
HDCP compliant
Serial port:
(1) Bidirectional RS-232 (via a USB to serial adapter)
Serial protocols:
Data bits: 7 or 8 (default)
Stop bits: 1
Parity: None
Flow control: None, Hardware or Software
Serial port baud rate:
19200 bps
Ethernet host port:
(1) RJ-45 (female)
Ethernet data rate:
10/100/1000 Base-T, half/full duplex with autodetect
Maximum Transmission Unit:
68 to 1500 MTU (configurable)
Protocols:
DHCP Option 81, TLS 1.2, LDAP, mDNS, DDNS, UPnP, SAP, RTP, MPEG-TS & RTP and MPEG-TS/UDP, 802.1x, EAPOL, EAP-TTLS, EAP-TLS, PEAP, HTTP, HTTPS, NTP, PTP, FTP, SFTP, SCP
AWS S3
Network discovery/Announce:
UPnP, SAP
Network security
| | |
| --- | --- |
| 802.1x EAP methods: | PEAP, EAP-TLS, EAP-TTLS |
Administration and control
Admin panel:
Local web UI for full administration. On-screen display and mobile UI for confidence monitoring, administration, and control.

Local Admin panel access using an external monitor and a USB mouse or keyboard connected directly to Pearl Nano plus front screen support.

Epiphan Cloud:
Cloud-based platform to remotely manage and control Pearl Nano devices. Start and stop recording/streaming, monitor sources and alert dashboard, remotely log in to Admin panel for rescue troubleshooting, update firmware, and more over the Internet.
Secure access:
Multiple user accounts and passwords.
HTTPS for secure Admin panel, as well as local network access to the live channel broadcast.
Remote access:
Remote login9 to the cloud version of the Admin panel.
API:
Yes (HTTP/HTTPS, RS-232)
Integrations
AC/DC power adapter
Model:
SYS1588-3012
Input power rating:
90 to 240 VAC, 1.5 ARMS, 47 to 63 Hz
Output power rating:
12 VDC, 2.5 A, 30 W
Active efficiency (average):
87.7%
Efficiency (10% load):
86.5%
No load consumption:
0.1 W
Power adapter manufacturer:
Sunny Computer Technology Europe, s.r.o
Trnkova 156, 628 00 Brno
Czech Republic
General
Operating temperature:
32° to 104° F (0° to 40° C)
Cooling:
Fan air flow: Left to right
Enclosure:
Metal
Form factor:
Portable desktop model, VESA mountable
Dimensions:
8.13″ x 5.91″ x 1.69″ (206 mm x 150 mm x 43 mm)
(W × D × H)
Weight:
2.0 lbs (.907 kg)
Power supply:
External AC/DC power adapter: 90 to 240 VAC/12 VDC, 2.5 A, 47 to 63 Hz
PoE+ (802.3at)
Input power rating:
External AC/DC power adapter: 12 VDC, 1.5 ARMS, 34 W
PoE+ (802.3at): 44 to 57 VDC, 25.5 to 30 W
Regulatory compliance:
FCC compliance: Part 15
CE compliance:
Directive 2014/30/EU – Electromagnetic Compatibility
Directive 2014/35/EU – Low Voltage Directive
Directive 2011/65/EU – RoHS
Time synchronization:
NTP, TIME (RFC 868), PTP v1 (IEEE-1588-2002 V1)
Country of origin:
Made in Taiwan
1HDCP compliant.
2Coming soon.
3One of the video sources you connect can be either an RTSP or an SRT source; however, you cannot connect more than one of these sources at the same time.
4Digital audio is de-embedded from the digital source.
5SD-SDI audio is not supported.
6Mono and 2-channel embedded HDMI audio signals are supported. Other embedded HDMI audio configurations are not supported.
7User supplied.
8SD card is reserved for system use and cannot be used to transfer files to other devices like a laptop. Use a USB memory device to manually transfer files instead.
9Requires an Epiphan Cloud Pro account.
Rent from a Partner, Not a Competitor
24/7 Sales
& Technical support

Same Day Delivery
to Most Major Cities

Competitive
Subrental Pricing

A Large Inventory of
High-Quality Equipment

Best-in-Class
QC Process

Rentex Locations
With locations across the country, Rentex can deliver to most major cities.

To reach local support, simply click on the location below. For Rental Emergency Support, call (866) 541-3465