Blackmagic Design – ATEM SDI Pro ISO
4x2 SDI Hybrid/Streaming Switcher with Webcam function and ISO Recording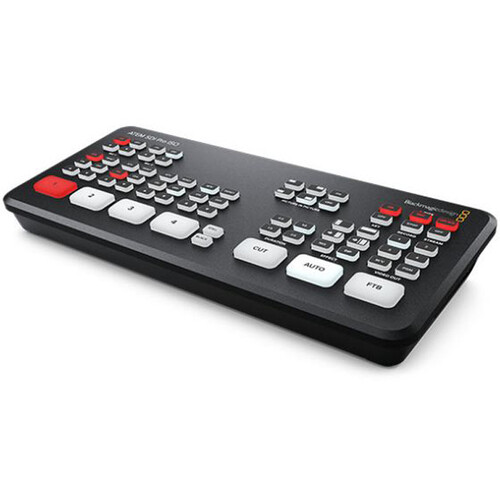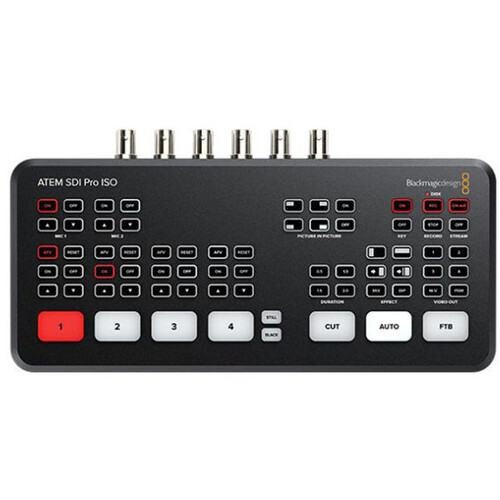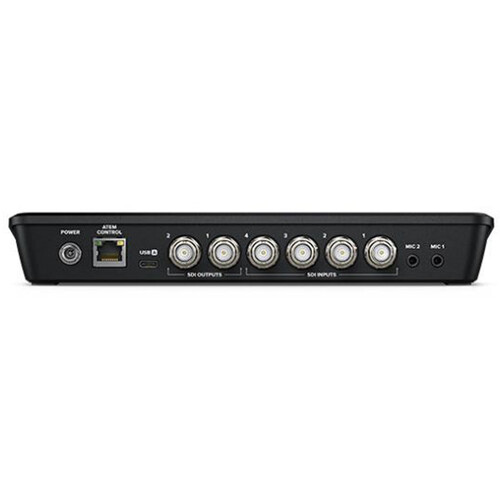 Mouse roll-over to zoom image.
Product Highlights
4 SDI Inputs with sync and conversion
2 SDI Outputs plus USB-C Webcam output
Stand-alone streaming solution with built in encoder to RTMP services
264 ISO (Isolated) recording of all inputs and program available by USB-C
Blackmagic Design's ATEM SDI Pro ISO is a compact powerhouse for modern Four 3G-SDI inputs are joined by two 3G-SDI outputs as well as 2 possible paths the web for streaming – USB Webcam out or direct stand-alone streaming by RTMP. Recording is available for the program cut as well as each input by USB-C (choose one between Webcam out or Recording).
Each of the inputs has built in sync and conversion for any SD/HD/3G-SDI signal rate to match the switcher's current settings. If Blackmagic Design Cameras are coming in, camera control is and embedded within each output. Embedded audio may be used from each input and two 1/8" line/mic inputs with plug-in power are also provided with level and mute controls on the panel for each, and a robust set of DSP and EQ are available in software including Compressor, Limiter, Expander.
Two SDI Outputs allow easy use in the room with Program and Multiview outputs – Output 1 has direct control buttons to swap between Multiview, Program, or any input direct feed. Chroma, Luma, and DVE are available for use the Upstream and Downstream key.
When you need to add a streaming element, the ATEM SDI Pro ISO provides the program output in 2 ways. First, you can simply grab the USB-C Output and connect it to any computer with your choice of video conferencing software – the unit appears as a webcam without any driver installation and sends a high-quality webcam feed up to 1080p60. Alternately, you can choose to set the unit up to stream directly out to any common CDN or streaming platform that accepts RTMP feeds with H.264 encoded video (that's pretty much all of them). Once this is set up, the ATEM will stream out using the "ON AIR" button, without requiring a computer.
Finally, recording. The ATEM SDI Pro ISO can use the same H.264 streaming encoder to simultaneously record up to all 4 input feeds plus the switched program output to an attached USB-C disk. A Davinci Resolve project file is captured as well – if this recorded project is loaded into Davinci Resolve for editing, the live cut decisions are loaded into the timeline and small adjustments or shot substitutions from the live cut are easy to perform.
Power Supply
USB-C combo cable for USB-C or USB-A laptops
USB-C to USB-A (F) Adapter
Connections
 
Total Video Inputs
4
Total Outputs
3
Total Aux Outputs
2
Total Audio Inputs
2 x 3.5mm stereo mini jack.
Total Audio Outputs
None, embedded audio only.
Timecode Connection
None
SDI Video Inputs
4 x 3G-SDI, 10-bit HD switchable.

2 channel embedded audio.

Video Input Re-Sync
On all 4 SDI inputs.
Frame Rate and Format Converters
On all 4 SDI inputs.
SDI Program Outputs
2
Ethernet
Ethernet supports 10/100/1000 BaseT for live streaming, software control, software updates and direct or network panel connection.
Computer Interface
1 x USB Type-C 3.1 Gen 1 for external drive recording, webcam out, software control, software updates and panel connection.
Standards

HD Video Input Standards

720p50, 720p59.94, 720p60

1080p23.98, 1080p24, 1080p25, 1080p29.97, 1080p30, 1080p50, 1080p59.94, 1080p60

1080i50, 1080i59.94, 1080i60

HD Video Output Standards

1080p23.98, 1080p24, 1080p25, 1080p29.97, 1080p30, 1080p50, 1080p59.94, 1080p60

Video Streaming Standards

1080p23.98, 1080p24, 1080p25, 1080p29.97, 1080p30, 1080p50, 1080p59.94, 1080p60

Ultra HD Video Standards

None

Video Sampling

4:2:2 YUV

Color Precision

10-bit

Color Space

Rec 709

Colorspace Conversion

Hardware based real time.
| | |
| --- | --- |
| Product Specifics | |
| Upstream Keyers | 1 |
| Downstream Keyers | 1 |
| Advanced Chroma Keyers | 1 |
| Linear/Luma Keyers | 2 |
| Transition Keyer | DVE only. |
| Total Number of Layers | 5 |
| Pattern Generators | 1 |
| Color Generators | 2 |
| DVE With Borders and Drop Shadow | 1 |
| Interface | Minimum monitor resolution of 1366 x 768. |
Audio

Audio Mixer

6 input x 2 channel mixer.

Selectable On/Off/Audio-Follow-Video per channel plus separate gain control per channel. Level and Peak metering. Plus new Fairlight audio enhancements: Compressor, Gate, Limiter, 6 bands of parametric EQ. Master gain control.

Analog Input

Unbalanced stereo

Analog Input Delay

Up to 8 frames

Input Impedance

1.8k

Max Input Level

+6dBV

Mic Plug In Power

Available on both 3.5mm mini jack connections.

Streaming

Direct Streaming

ATEM SDI Pro ISO supports direct live streaming using Real Time Messaging Protocol (RTMP) over ethernet or a shared mobile internet connection over USB‑C
| | |
| --- | --- |
| Recording | |
| Direct Recording Video and Audio | USB-C 3.1 Gen 1 expansion port can record directly to external media. |
| Video Recording | 4 x SDI ISO inputs as H.264 .mp4 files at up to 70Mb/s quality at the ATEM video standard with AAC audio.1 x Program out as H.264 .mp4 file at the Streaming quality setting and at the ATEM video standard with AAC audio. |
| Audio Recording | 6 x 2 channel audio inputs recorded as separate 24‑bit 48KHz .wav files. Including 2 x analog stereo audio inputs and 4 x SDI 2 channel embedded audio inputs. |
| Switching | Program switching recorded as a DaVinci Resolve project .drp file. |
| Media Format | Supports media formatted ExFAT (Windows/Mac) or HFS+ (Mac) file system. |
| | |
| --- | --- |
| Multi View Monitoring | |
| Multi View Monitoring | 1 x 10 Views including left right configurable Program/Preview, 4 SDI inputs, Media Player, Streaming Status, Recording Status and Audio Meters. |
| Multi View Video Standard | HD |
| | |
| --- | --- |
| Media Player | |
| Media Players | 1 |
| Channels | Fill and key for each Media Player. |
| Media Pool Still Image Capacity | 20 with fill and key. |
| Media Pool Still Image Format | PNG, TGA, BMP, GIF, JPEG and TIFF. |
| | |
| Control | |
| Control Panel | Built in control panel. Software control panel with camera control included. Supports optional hardware panel. |
| Control Panel Connection | Ethernet supports 10/100/1000 BaseT. Ethernet used for direct connection between panel and chassis or via network. ATEM SDI Pro ISO also supports direct USB‑C connection. Ethernet or USB‑C used for updating the software. |
| Control Panel Compatibility | Includes ATEM Software Control Panel. Also compatible with ATEM 1 M/E Advanced Panel, ATEM 2 M/E Advanced Panel and ATEM 4 M/E Advanced Panel. ATEM SDI Pro ISO can be configured using Blackmagic Videohub Hardware Panel Setup utility to route sources to destinations using Videohub Smart Control Pro and Videohub Master Control Pro. |
| Control Panel Included | ATEM Software Control Panel included free for Mac 11.0 Big Sur, Mac 12.0 Monterey or later and Windows 10 64 bit or Windows 11. |
| | |
| Software | |
| Software Updates | Using USB or Ethernet connection directly connected to Mac OS X or Windows computers. Includes ATEM Switcher Utility. |
| Configuration | Set via ATEM Software Control Panel, excluding ATEM chassis IP address which is set via the ATEM Switcher Utility connected via USB to chassis. |
| | |
| Power Requirements | |
| Power Supply | 1 x External 12V power supply. |
| Power Usage | 36W |
Rent from a Partner, Not a Competitor
24/7 Sales
& Technical support

Same Day Delivery
to Most Major Cities

Competitive
Subrental Pricing

A Large Inventory of
High-Quality Equipment

Best-in-Class
QC Process

Rentex Locations
With locations across the country, Rentex can deliver to most major cities.

To reach local support, simply click on the location below. For Rental Emergency Support, call (866) 541-3465