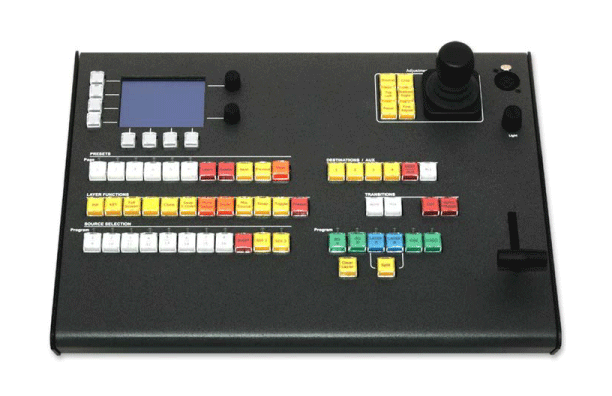 Mouse roll-over to zoom image.
Product Highlights
Four (4) AUX output control
Control of BlendPRO-II system
External router control via Ethernet or RS-232
3.8″ LCD Display with 8 buttons and 2 knobs for easy set up
Rentex No.

CTLSP2
|
Mfr No. R9860206
The ScreenPRO II Controller with Tally/PS2 Card from Barco is a controller designed to give you more control over your event management and other professional work when using the ScreenPRO II Seamless Switcher. This controller enhances PIP and key placement, source switching, and layer control, among other functions. It is equally well suited for multi-screen and single-screen events.
This unit will accept up to (16) inputs and (4) AUX outputs. Inputs can include any mixture of RGBHV analog, SD/HD-SDI, and DVI from both external routers and the built-in routers of the ScreenPRO II switcher. External router control may be managed via Ethernet or RS-232.
This unit may be backed up with a removable media card. This model includes a tally and PS/2 card that will support up to (8) tally lights and (1) keyboard. A 3-13/16″ LCD display with (8) buttons and (2) knobs facilitates the setup and management of this controller.
Video Routing
Input capability: Up to 16 input sources
Output destinations: 1-4 ScreenPRO II processors
External router Control: Up to 3 External Routers: 1 Analog, 1 SDI/ HDSDI, 1 DVI
Operator Control
Display: 3.8" LCD Touch Screen
Joystick: 3-Axis (X,Y and Z)
T-Bar: Analog T-Bar with smooth movement
Presets: 36 (6 pages of 6 Presets)
Destinations: 8 Total Destinations (4 ScreenPRO II and 4 AUX)
Control/Remote
Ethernet: 1 RJ-45 (F) connector, running 10/100 Base-T, half/full duplex w/ auto detect
Ethernet Protocol: ICMP (ping), TCP/Ethernet Protocol CP/IP, Telnet
Serial Control Ports: 2- RS-232 ports, each 9-pin female D connector
Baud rate and Protocol: 115K Baud, 8-bit, 1 stop, no parity selectable
Keyboard Port (Optional): PS/2 Connector
Tally (Optional): DB-25 Male, Dry-Contact Relay Closures: 1 Amp at 30 VDC, .5 Amps at 125 VDC
Backup option: Removable Media Card, Type 1 Compact Flash Compliant
Enclosure
Dimensions: 5.95" H X 17.0" W X 10" D (2U high, full rack width) 15.13cm H X 43.2 cm W X 25.4 cm D
Weight: 12 lbs (5.45 kg)
Console Light: XLR type Connector
Environmental
Temperature: 0-40° C
Environmental Humidity: 0-95%, non-condensing
Power Type: 100-240 VAC – 50/60 Hz. Auto Selecting 1.0A Max
Remote Programming
Serial Control Port: RS-232, 9Pin Female D connector
Baud rate and Protocol: 115kb/sec, 8-bit, 1 stop bit, no parity selectable
Rent from a Partner, Not a Competitor
24/7 Sales
& Technical support

Same Day Delivery
to Most Major Cities

Competitive
Subrental Pricing

A Large Inventory of
High-Quality Equipment

Best-in-Class
QC Process

Rentex Locations
With locations across the country, Rentex can deliver to most major cities.