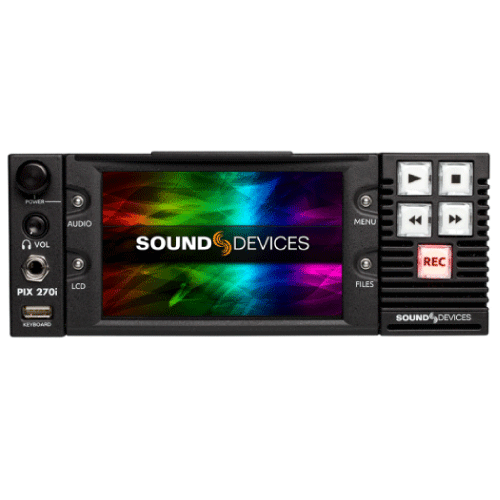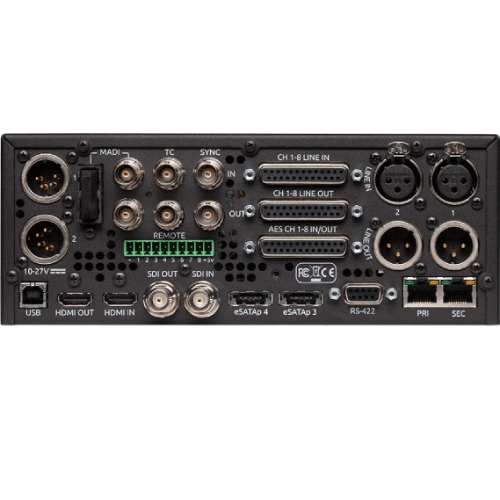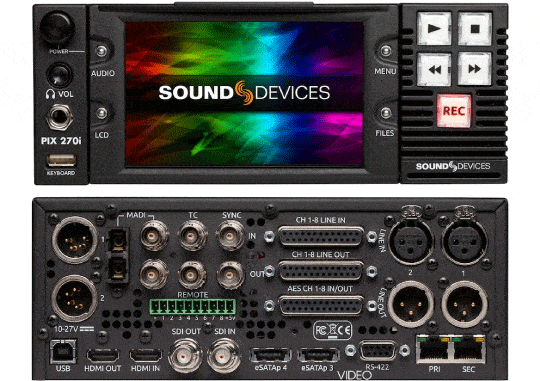 Mouse roll-over to zoom image.
Product Highlights
Dedicated video hardware records to standard removable solid-state drives
Simultaneous multi-drive recording on up to four SSD drives enables redundancy and backup
Redundant 4-pin XLR power connections
PowerSafe circuitry provides 10-second power reserve and safe file shutdown during external power loss
Tapeless file-based recording, playback, and file transfer
Rentex No.

XVR0100
|
Mfr No. PIX270i
The PIX 270i file-based video deck delivers the performance, quality, and reliability required for fast-paced studio, live sports, event, and mobile multi-camera production. It seamlessly replaces tape and disc based video decks and provides a cost-effect and compact alternative to complex video servers.
(1)

Sound Devices PIX 270i Vid Rec

order
(2)

OWC Mercury Extreme 480GB SSD

(1)

PIX270 4PIN XLR POWER SUPPLY

(1)

CABLE:ESATA (F) TO (F), 6′

(1)

CABLE:FIREWIRE 800 (M) TO (M),

(1)

CABLE:USB 3 A (M) TO B (M), 1′

(1)

FLASH DRIVE: MANUAL
SDI Input & Output
4:4:4 or 4:2:2; 12, 10, or 8-bit, 3G-SDI (levels A and B), HD-SDI, or SDI, Output 4:4:4 or 4:2:2; 12, 10, or 8-bit 3G-SDI (level A), HD-SDI, or SDI, SMPTE 12M-1, 12M-2, 125M, 259M, 272M, 291M, 292, 296M, 299, 352M, 372, 424, 425.
HDMI I/O

Input v1.4a, 4:4:4 or 4:2:2, RGB or YCbCr, 10 or 8-bit, HDCP-enabled, Output v1.3, 4:2:2 8-bit, RGB and YCbCr.
Video Input Resolutions / Rates

1080p23.976/24/25/29.97/30.
1080i50/59.94/60.
1080PsF23.976/24/25/29.97/30.
720p23.976/24/25/29.97/30 (SDI Only).
720p50/59.94/60
Codecs and File Formats

Apple ProRes 4444, 330 Mb/s, 12-bit and Apple ProRes 36, 100, 145, 220 Mb/s, 8 and 10-bit.
Avid DNxHD 36, 145, 220 and 220x.
Broadcast Wave (.WAV) monophonic and polyphonic audio only (with embedded iXML, bEXT).
exFAT file system.
Audio Only Mode: 16 & 24 bit PCM Brodcast Wave (.WAV) files.
Up/Down/Cross Conversion

480i, 576i, 720p, 1080i, 1080p to 480i, 576i, 720p, 1080i, 1080p, anamorphic conversion.
Frame Rate Conversion

Conversion between 23.976, 24, 25, 29.97 30, 50, 60, automatic 3:2 pull-down removal in 23.976 and 24 frame modes, other pull-down cadences include 2:2:2:4, 2:3:3:2, 3:2:3:2:2, and 2:2.
Audio Recording

64 channels record/playback @ 48.048 kHz sample rate and lower, 32 channels record/playback @ 88.2 kHz sample rate and higher (audio only mode).
Simultaneous Analog, AES/EBU, HDMI, SDI, Dante, or MADI, selectable per channel.
LCD Display

5-inch LCD – IPS (In-Plane Switching), glossy, 800×480 pixel LCD display, ultra-wide viewing angle and high color accuracy.
Analog Audio

8 balanced, line-level I/O on DB-25, ch1, 2 also on XLR Freq. Res of 10 Hz-20 kHz, +/- 0.5 dB re 1 kHz; THD + Noise: 0.004% max (1 kHz, 22 Hz-22 kHz), fully electronically balanced, line-level, RF, ESD, short, and overload protected; pin-2 hot, pin-3 cold, line output clipping level: +18dB, output attenuation 0-20 dB, 1 dB increments.
Front-panel headphone, 1/4" with gain control.
Digital Audio
24-bit at SR of 44.1 kHz, 47.0952 kHz, 48 kHz, 48.048 kHz, 88.2 kHz, 96 kHz, accepts 32k, 44.1k, 48k, 96k sample rates with SRC at input.
AES/EBU: 8 channels in and out via DB-25, 110 ohm, 2 V p-p.
HDMI: 8 channels embedded HDMI input, 8 channels embedded HDMI output.
SDI: 16 channels embedded SDI input and output.
Dante – 64 channels input and output.
MADI BNC: 1 in, 1 out, 75 ohm.
MADI Optical: 1 in, 1 out, multi-mode.
MADI Sample rates: 96k, 88.2k, 48k, 44.1k, built-in SRC when Sync Source <> MADI.
MADI Channels: 64 or 56, varispeed not supported.
File Storage

PIX-Caddy 2 mounted drives: two, front-mounted Sound Devices approved 2.5-inch drives, such as the PIX-SSD6.
eSATAp-connected drives: two, rear panel ports for Sound Devices approved drives, supplies 5V @ 2A.
Ethernet file transfer via SMB/CIFS volume.
Timecode

Modes Supported: Freerun, Record run, External.
Frame Rates: 23.976, 24, 25, 29.97DF, 29.97ND, 30DF, 30ND.
Accuracy: +/- 0.2ppm, holds accurate timecode for 2 hours after power is removed.
Inputs / Outputs: BNC (LTC input and output), SDI or HDMI.
Sync Output

Analog bi-, tri-level sync / genlock Wordclock (square wave, 48 kHz sampling rate, 3.3 vp-p, 75 ohm).
Sync Input

Analog bi-, tri-level sync / genlock Wordclock (square wave, 48 kHz sampling rate, 3.3 vp-p, 75 ohm).
Control

RS422 Machine control (Sony 9-pin protocol).
Ethernet Web-based control of settings and transport.
GPIO on 3 pins, Phoenix connector.
Keyboard Front-panel USB host. Keyboards without hubs acceptable.
Power

Dual DC power supply 4-pin XLR (pin1 = ground, pin4 = +), 10-27 VDC, 30 watts.
PowerSafe™ circuitry with 10 second power reserve with power removed.
Physical

Size (H x W x D): 3.3" x 8.6" x 10.3" (8.4 cm x 21.8 cm x 26.2 cm).
Weight: 7.5 lbs.
Operating Temperature: -10C to +40C.
Rent from a Partner, Not a Competitor
24/7 Sales
& Technical support

Same Day Delivery
to Most Major Cities

Competitive
Subrental Pricing

A Large Inventory of
High-Quality Equipment

Best-in-Class
QC Process

Rentex Locations
With locations across the country, Rentex can deliver to most major cities.

To reach local support, simply click on the location below. For Rental Emergency Support, call (866) 541-3465