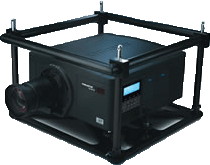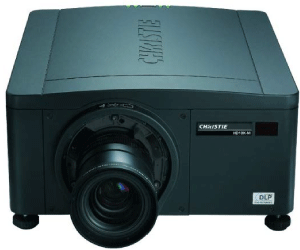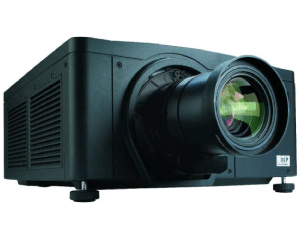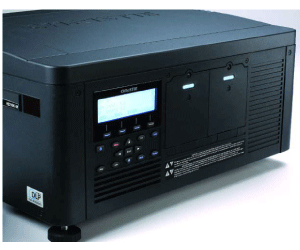 Mouse roll-over to zoom image.
Product Highlights
Cage Included with Rental
HD (1920×1080)
55.0 lbs | 22.1 x 19.7 x 10.2″ (LxWxH)
Dual Lamp System
Full Suite of Lens Options. See Below.
Rentex No.

14KM
|
Mfr No. 118-029102-XX
The Christie Roadster HD14K-M is a flexible, efficient, 1080 HD, 3DLP digital projector designed with your staging needs in mind. This projector gives you a full set of options and now longer lamp life.
The Christie® M Series projector platform provides the high-performance and feature-rich standards expected in all Christie products. The most compact in its class, this projector platform has embedded warping, blending and color matching capabilities that give you even more installation flexibility. The Roadster HD14K-M also ships equipped with more input cards than the other M Series models, and a stacking frame.
The Christie Roadster HD14K-M, offers high efficiency and low cost of ownership. It draws a maximum power of 1500W (at 110V), giving you full brightness with two lamps instead of four.
(1) Christie Roadster HD14K-M
(1) Christie Projector Remote M2 (Black)
(1) Projector USB Manual
(1) 14 AWG 5-15P to RED C13 Power
(1) L630P to C13
(4) MLSB-SW Swivel Coupler with Steel Wingnut, Black A
Image

Dual lamp: 13,500 center (12,000 ANSI, 13,500 ISO) lumens
Single lamp: 6,750 center (6,000 ANSI, 6,750 ISO) lumens

Contrast

2,500:1 (full on, full off)
650:1 ANSI (typical)

Uniformity

90% brightness uniformity

Display type
Resolution
Lamp type
Lamp life

High power: 1,750 hrs @ 450W
Low power: 2,000 hrs @ 360W

Standard inputs

Twin DisplayPort input card
Dual-link DVI
3G SD/HD-SDI
Video decoder

Optional inputs

Analog (5 BNC)
Dual-link DVI
Dual 3G SD/HD-SDI
Video decoder
Twin HDMI

Input signals

HDTV formats VGA through to QXGA (2048 x 1536)
Accepts all current HDTV/DTV formats
Multistandard video decoder
Horizontal and vertical scaling, all inputs

Pixel clock
Scan rates

Horizontal: 15 to 120 kHz
Vertical: 23.97 to 150 Hz

Inputs, controls and networking

RS232 in/out
RS422 in
Ethernet (10/100)
USB device
GPIO (RS232 9-pin male connector)
Built-in backlit LCD keypad
Remote control (with optional wired XLR connection)

Optical system

Dust-sealed, 3-chip, DMD light engine
Motorized horizontal and vertical lens offset
Scheimpflug (tilt) adjustment
Built-in light shutter
Tool-free lens insertion system

Fixed lenses

ILS lens 0.73:1 SX+/0.67:1 HD*
ILS lens 1.2:1 SX+/1.1:1HD

Zoom lenses

ILS lens 1.25-1.6:1 SX+/1.16-1.49:1 HD**
ILS lens 1.5-2.0:1 SX+/1.4-1.8:1 HD
ILS lens 2.0-2.8:1 SX+/1.8-2.6:1 HD
ILS lens 2.8-4.5:1 SX+/2.6-4.1:1 HD
ILS lens 4.5-7.3:1 SX+/4.1-6.9:1 HD
ILS lens 7.5-11.2:1 SX+/6.9-10.4:1 HD

Offsets

+/- 120% Vertical
+/- 42% Horizontal
(* ±35%V / ±12%H)
(** ±102%V / ±40%H)

Standard accessories

Stacking frame
IR remote
Line cord

Enhanced feature sets

LiteLOC™
Comprehensive Color Adjustment (CCA™)
Embedded Christie Twist image warping and edge-blending
Intelligent Lens System (ILS) for zoom, focus, horizontal and vertical offset for all lenses
Auto setup
Digital keystone correction
Menus in five languages
99 channel memories
Multiwindowing and processing (up to a 3 x 3 array)
Black-level blending
24/7 operation

Operating voltage
Operating current
Power
Dissipation
Dimensions (with cage)

745.3 x 714.6 x 509mm (29.34 x 28.13 x 20.04 in)

Weight (without cage)
Weight (with cage)
Operating environment

Temp: 40 to 104° F (5 to 40° C)
Humidity: 20-80% non-condensing
Rent from a Partner, Not a Competitor
24/7 Sales
& Technical support

Same Day Delivery
to Most Major Cities

Competitive
Subrental Pricing

A Large Inventory of
High-Quality Equipment

Best-in-Class
QC Process

Rentex Locations
With locations across the country, Rentex can deliver to most major cities.

To reach local support, simply click on the location below. For Rental Emergency Support, call (866) 541-3465