Clear-Com FreeSpeak II – 1.9GHz
Wireless Intercom System
Rentex No.

COMFS2K
|
Mfr No. FreeSpeak II-Base-II | 1.9GHz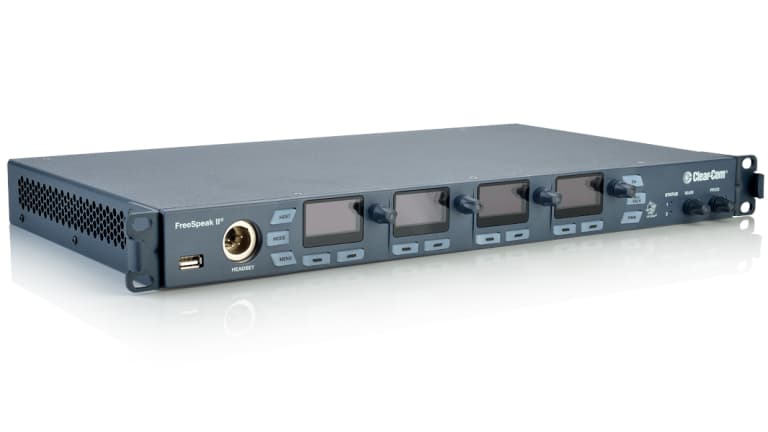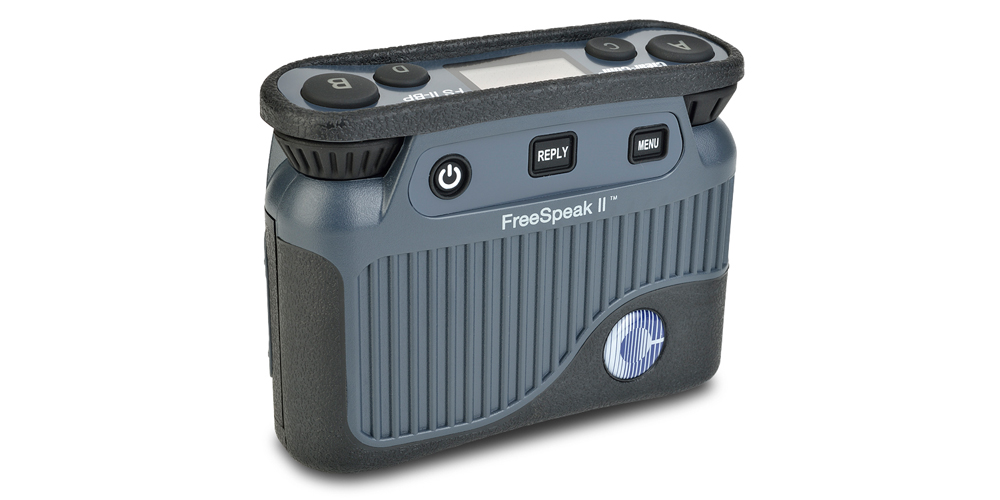 Product Highlights
Comprehensive, High Capacity, Extensible, Scalable
Routing and configuration of up to 25 FreeSpeak II beltpacks
Our rental kit includes 4 beltpacks and 5 headsets (see below for a full list)
Additional beltpacks and headsets are available as add-ons
Dedicated front panel keys for remote mic kill, stage announce and all talk
FreeSpeak II™ is the next generation distributed wireless solution that operates in multiple world-wide license-free frequency bands: 1.897-1.933GHz and 2.4GHz. This high performance wireless intercom system is designed for extensive communication in large-scale operations. Its ability to maintain a strong and continuous wireless connection across an expansive coverage area while providing crystal-clear digital audio makes FreeSpeak II the ideal wireless roaming solution for live event, broadcast, sport production, industrial, military and government applications.
Rental Kit Includes:
(1) Clear-Com FreeSpeak II Base Station
(1) Clear-Com FreeSpeak II Splitter
(2) Clear-Com FreeSpeak II 1.9 GHz Transceiver
(4) Clear-Com FreeSpeak II 1.9 GHz Beltpacks
(5) Clear-Com CC-300-X4 Heavy Duty Single Ear Headsets
(4) Clear-Com FreeSpeak II Rechargeable BP Batteries
(1) Clear-Com FreeSpeak II 5-Way Charging Station
(2) 25′ Cat5 Shielded Cable
Base II
Frequency Response: 100 Hz – 7.1 kHz
PC Programming Port: DB9
Relay Port: DB9
No. of Active Antenna Ports: 2
Matrix Connection: 4 RJ-45
Program Input: XLR-3F
Stage Announce Output: XLR-3M
Front Panel Display: 254 x 32 dot-graphic VFD
Dimensions: 1.75 x 19.0 x 12.5 in. (HxWxD)
Weight: 10.8 lbs
Beltpack
Audio Bandwidth: 200 Hz – 7.5 kHz
Mode of Operation: Full duplex on all routes
Level/Talk Controls: 4 pushbuttons, a reply button, 2 rotary controls
Frequency Spectrum: 1.88 GHz – 1.93 GHz
Range: Up to 1475 feet in good frequency conditions
Battery: Li-lon or 3 AA alkaline cells
Headset Connector: 4-pin male, Clearcom standard
Microphone Type: Electret and Dynamic
Headset Limiter: Selectable from beltpack menu
Dimensions: 5 x 1.5 x 3.75 in. (DxWxH)
Weight: 9 oz including batteries
Antenna
Beltpacks Supported Per Active Antenna: 1.9 Ghz Antenna: 5, 2.4 Ghz Antenna: 4
Active Antenna Transmission Range: Up to 1475 feet to beltpack in good conditions
Local Powering: 24 VDC power supply
Connection to Base: RJ-45
Dimensions: 6.9 x 5.4 x 2.1 in. (HxWxD)
Weight: 11.9 oz
Antenna Splitter
No. of Antennas: 5
No. of Splitters Per Base: 2
Connection Between Base and Splitter: CAT-5 or better cable with RJ-45
Powering of Splitter: Locally powered via supplied external power
Weight: 16 oz
Locations
With 10 locations, Rentex can deliver AV equipment same day to most major cities, and anywhere else in the USA within 24-hours.

To reach local support, simply click on the location below. 
For Rental Emergency Support, call (866) 541-3465