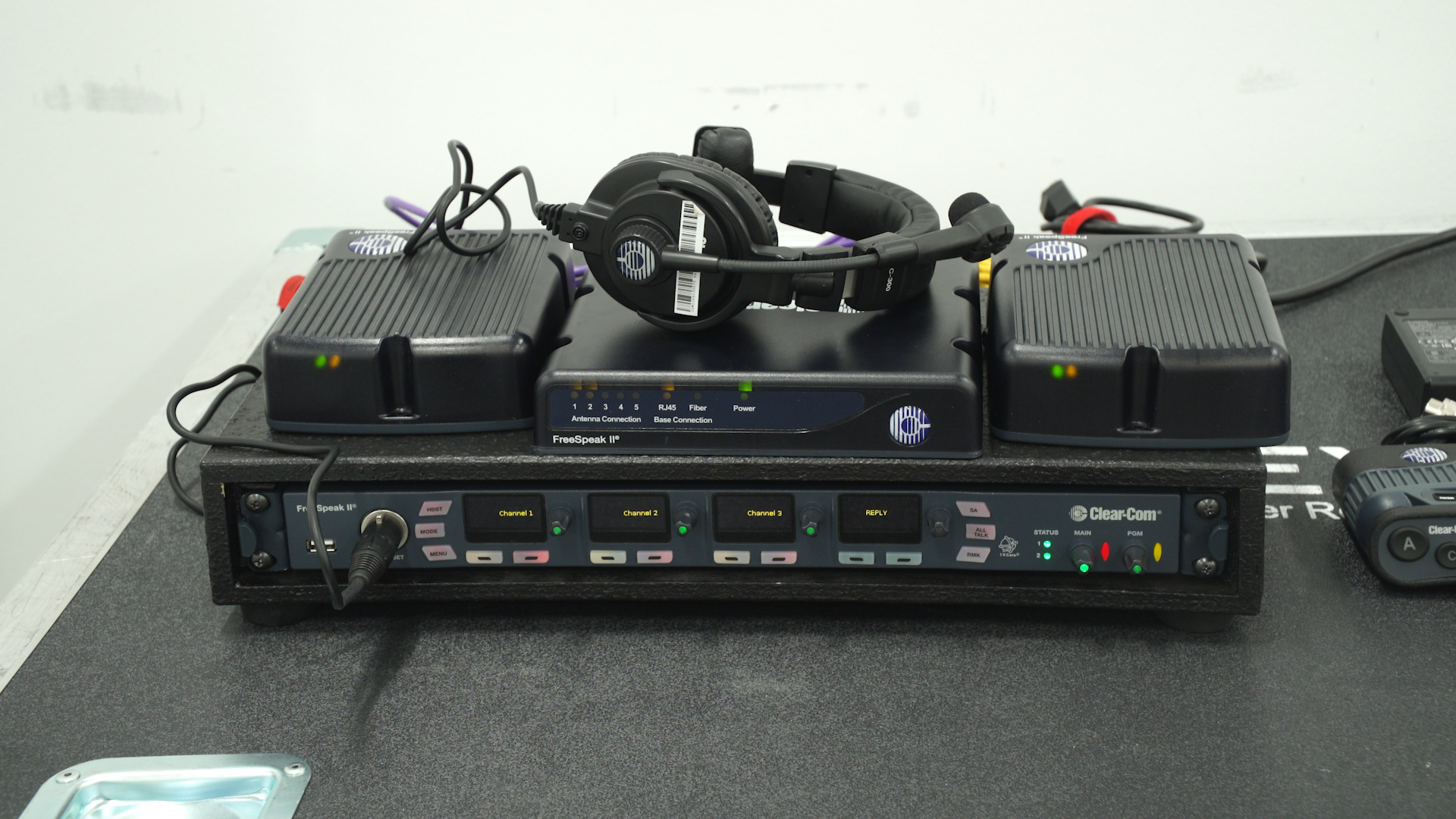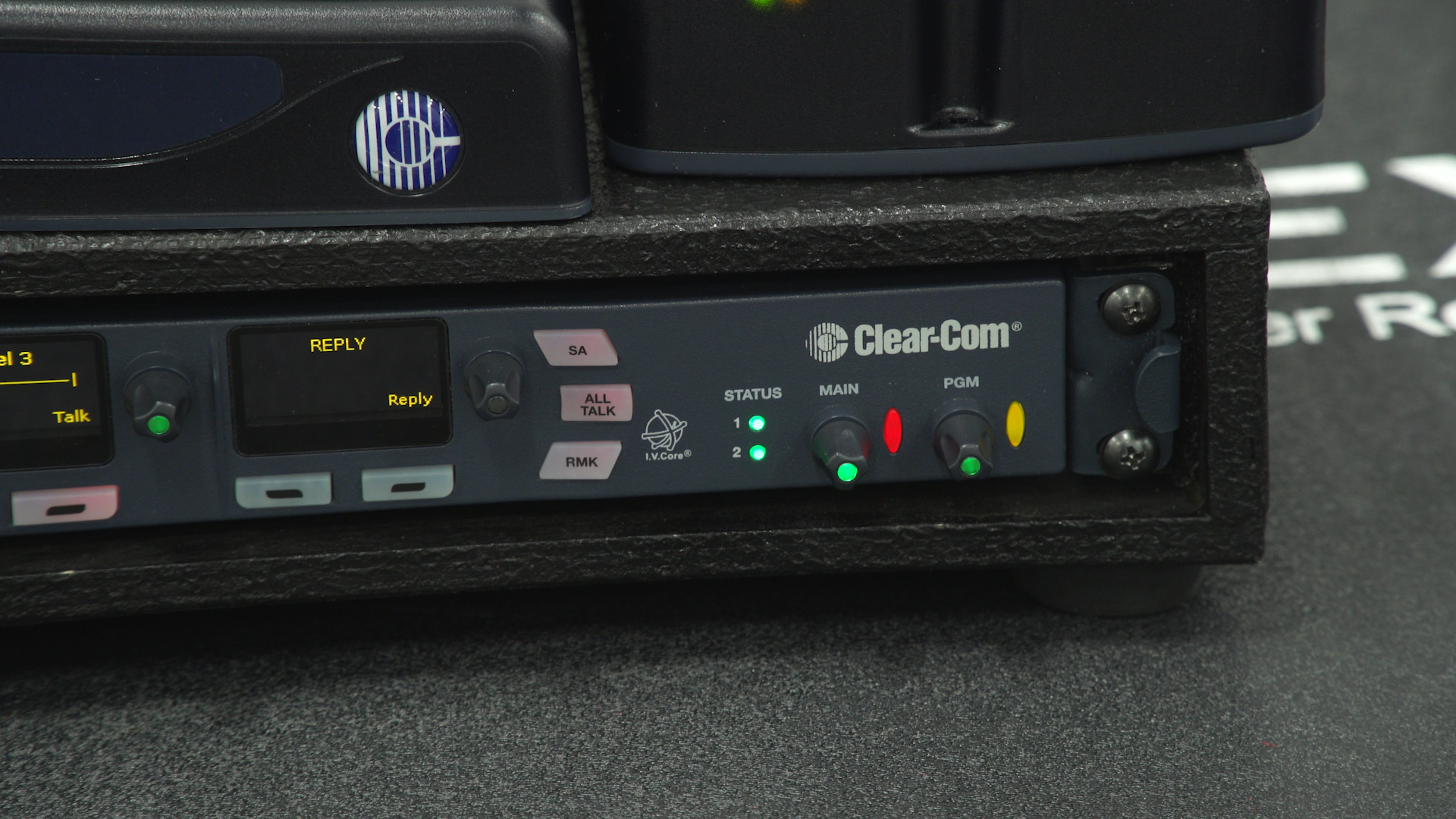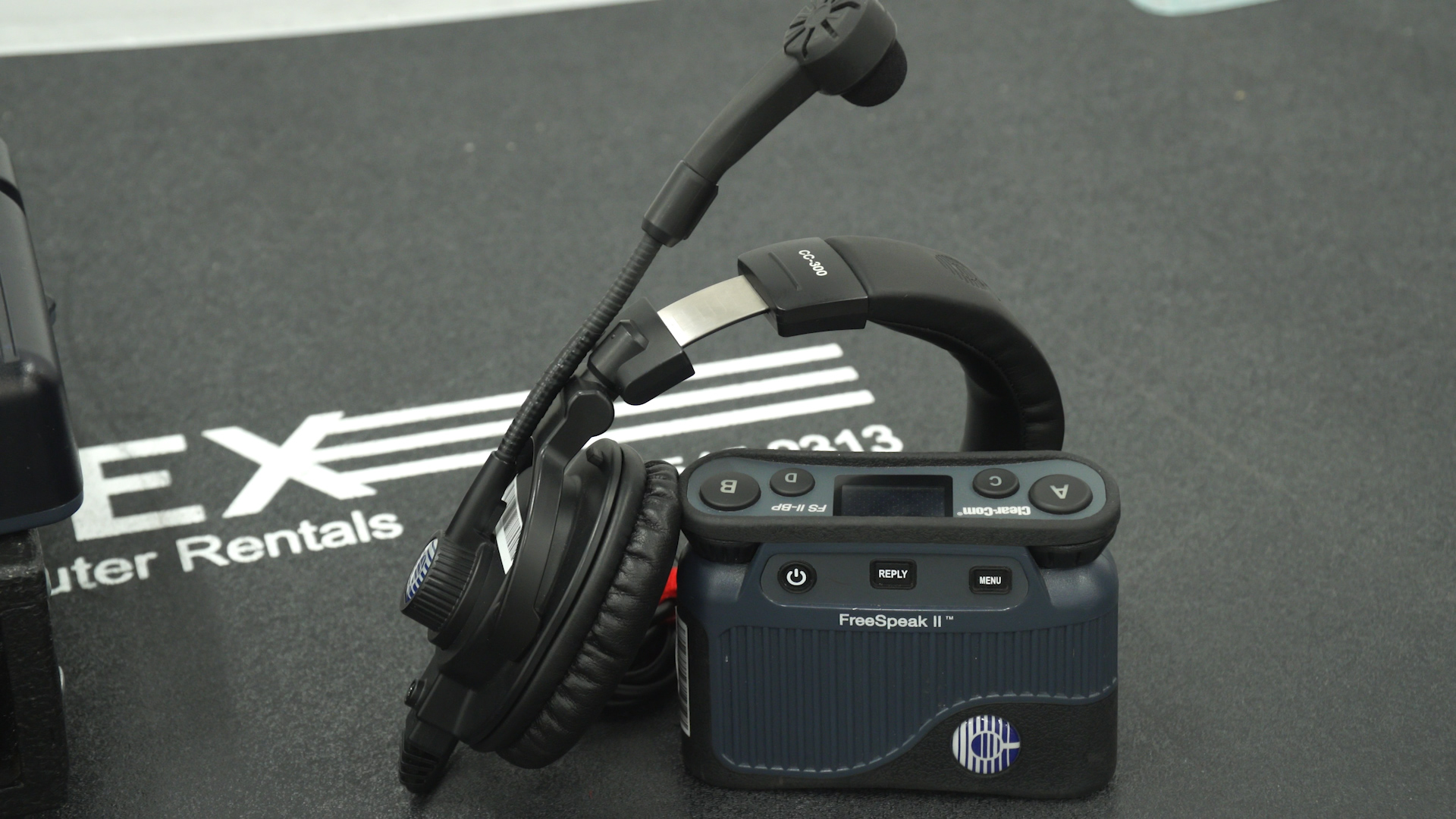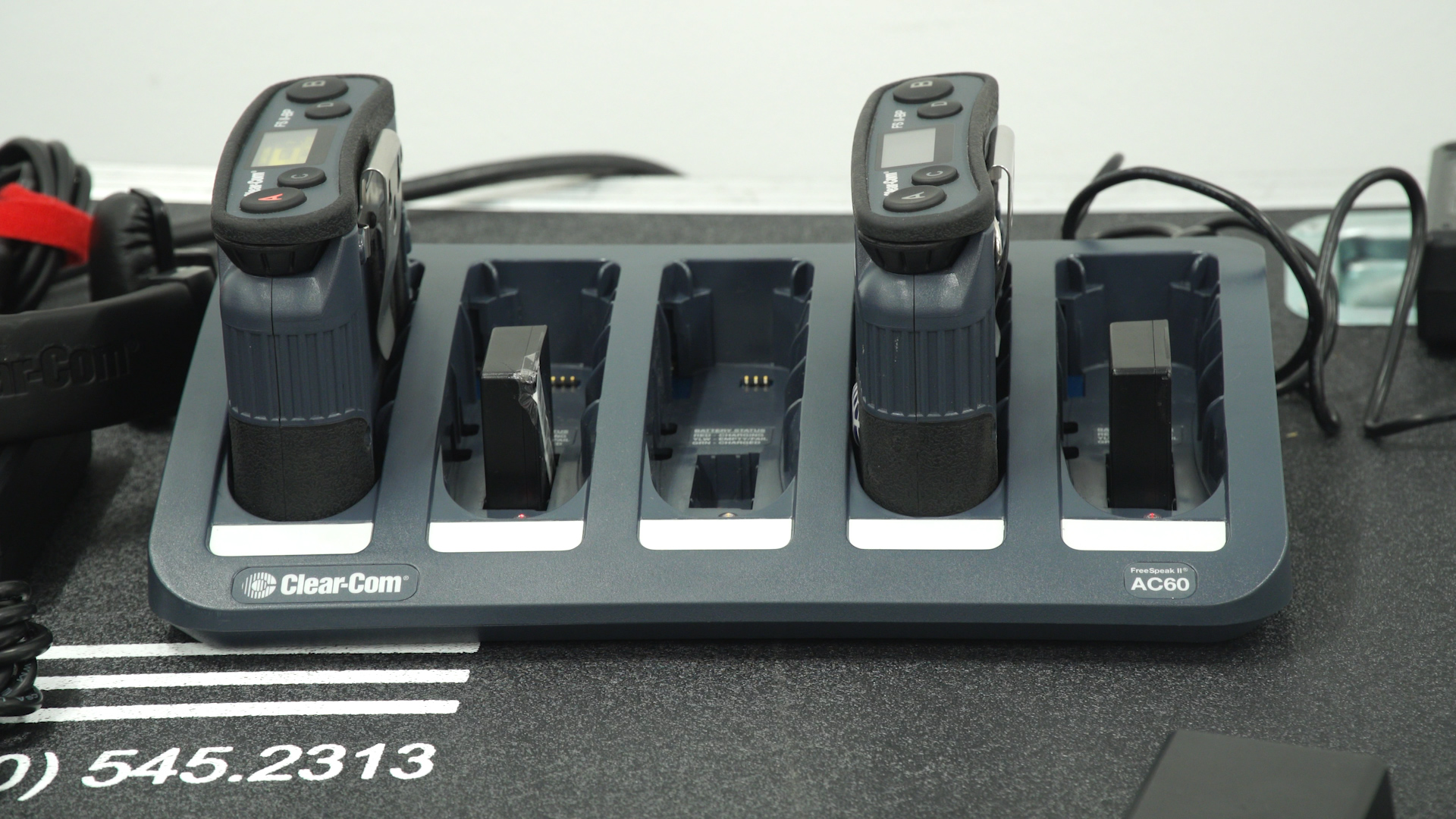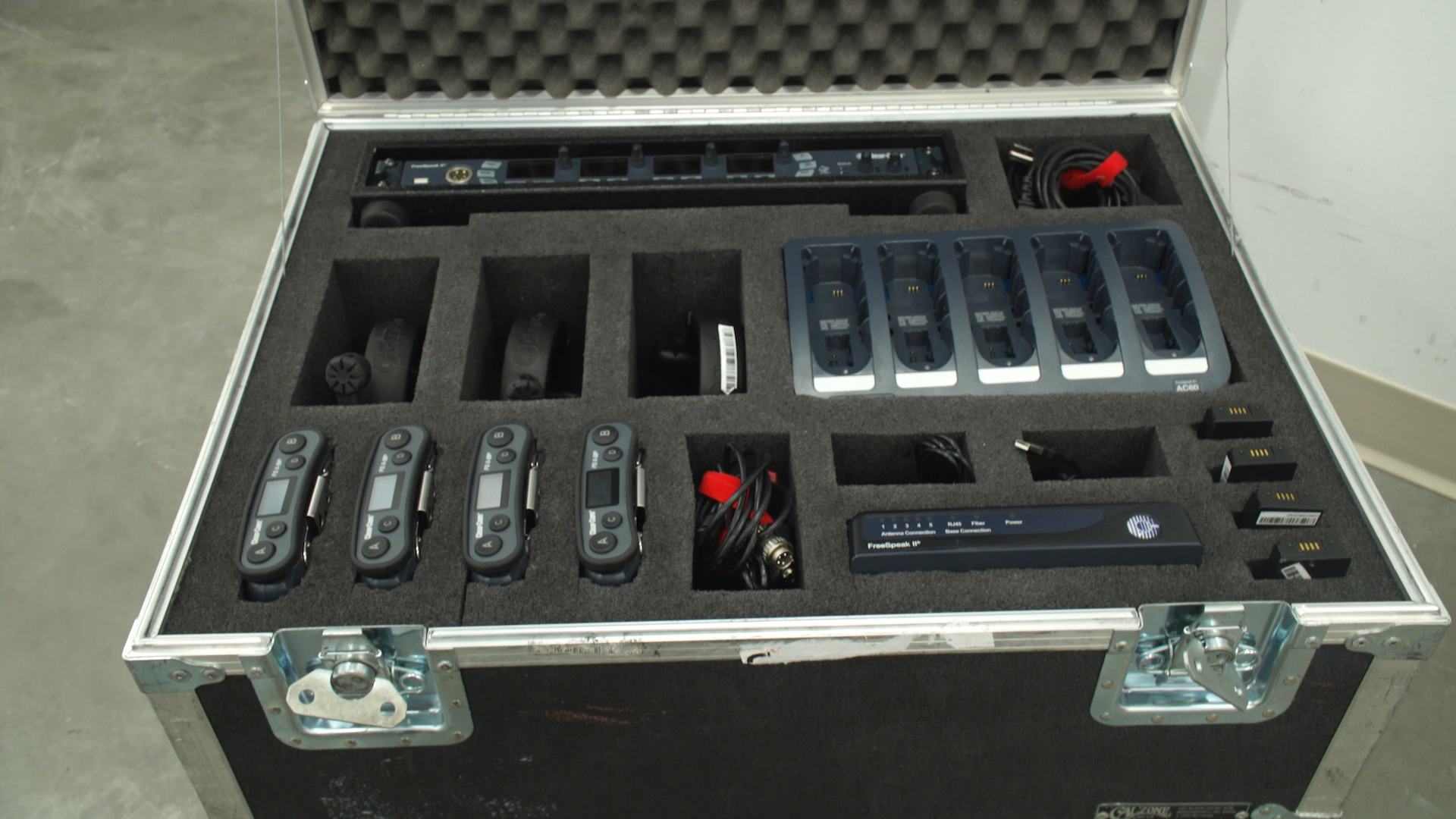 Mouse roll-over to zoom image.
Product Highlights
5-channel Full Duplex Wireless Intercom
Coverage range from 300′ up to 500' per Transceiver
RF Audio Filter improves system performance in hard RF environments
Four 2-wire (w/call and auto nulling) and 4-wire ports to connect to other intercom systems (Clear-Com & RTS)
Versatile and reliable wireless intercom operating in the 1.9GHz and 2.4GHz band (we offer 1.9GHZ) for the utmost clarity
Rentex No.

CCFSSYSTEM
|
Mfr No. FreeSpeak II-Base-II | 1.9GHz
This high performance wireless intercom system is designed for extensive communication in large-scale operations. Its ability to maintain a strong and continuous wireless connection across an expansive coverage area while providing crystal-clear digital audio makes FreeSpeak II the ideal wireless roaming solution for any situation.
(1) Clear-Com FreeSpeak II Base Station
(1) Clear-Com FreeSpeak II Splitter
(2) Clear-Com FreeSpeak II 1.9 GHz Transceiver
(4) Clear-Com FreeSpeak II 1.9 GHz Beltpacks
(5) Clear-Com CC-300-X4 Heavy Duty Single Ear Headsets
(4) Clear-Com FreeSpeak II Rechargeable BP Batteries
(1) Clear-Com FreeSpeak II 5-Way Charging Station
(2) 25′ Cat5 Shielded Cable
Base II
Frequency Response: 100 Hz – 7.1 kHz
PC Programming Port: DB9
Relay Port: DB9
No. of Active Antenna Ports: 2
Matrix Connection: 4 RJ-45
Program Input: XLR-3F
Stage Announce Output: XLR-3M
Front Panel Display: 254 x 32 dot-graphic VFD
Dimensions: 1.75 x 19.0 x 12.5 in. (HxWxD)
Weight: 10.8 lbs
Beltpack
Audio Bandwidth: 200 Hz – 7.5 kHz
Mode of Operation: Full duplex on all routes
Level/Talk Controls: 4 pushbuttons, a reply button, 2 rotary controls
Frequency Spectrum: 1.88 GHz – 1.93 GHz
Range: Up to 1475 feet in good frequency conditions
Battery: Li-lon or 3 AA alkaline cells
Headset Connector: 4-pin male, Clearcom standard
Microphone Type: Electret and Dynamic
Headset Limiter: Selectable from beltpack menu
Dimensions: 5 x 1.5 x 3.75 in. (DxWxH)
Weight: 9 oz including batteries
Antenna
Beltpacks Supported Per Active Antenna: 1.9 Ghz Antenna: 5, 2.4 Ghz Antenna: 4
Active Antenna Transmission Range: Up to 1475 feet to beltpack in good conditions
Local Powering: 24 VDC power supply
Connection to Base: RJ-45
Dimensions: 6.9 x 5.4 x 2.1 in. (HxWxD)
Weight: 11.9 oz
Antenna Splitter
No. of Antennas: 5
No. of Splitters Per Base: 2
Connection Between Base and Splitter: CAT-5 or better cable with RJ-45
Powering of Splitter: Locally powered via supplied external power
Weight: 16 oz
Rent from a Partner, Not a Competitor
24/7 Sales
& Technical support

Same Day Delivery
to Most Major Cities

Competitive
Subrental Pricing

A Large Inventory of
High-Quality Equipment

Best-in-Class
QC Process

Rentex Locations
With locations across the country, Rentex can deliver to most major cities.

To reach local support, simply click on the location below. For Rental Emergency Support, call (866) 541-3465