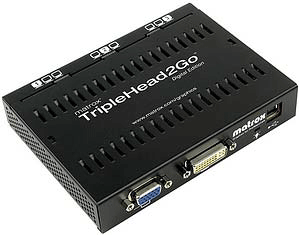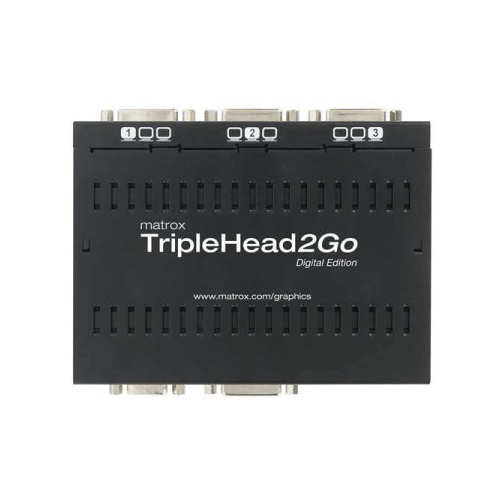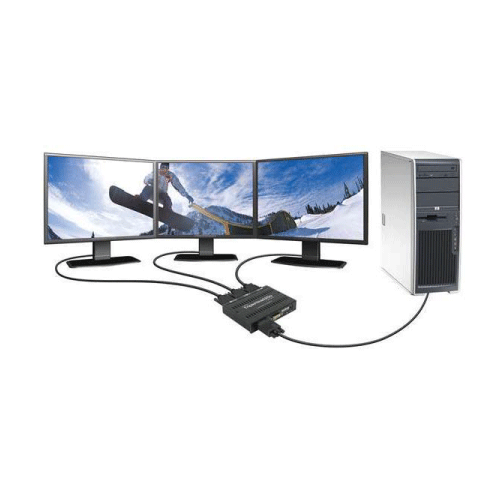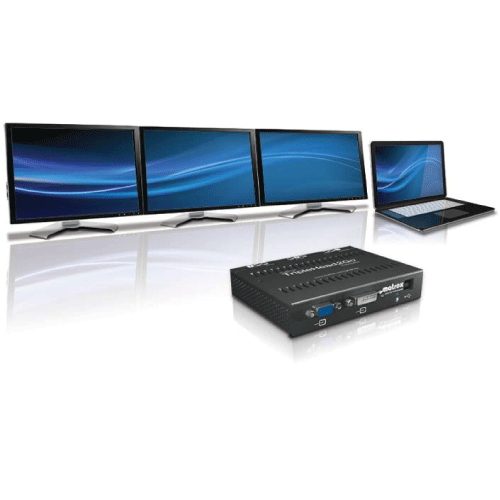 Mouse roll-over to zoom image.
Product Highlights
Multiple Monitor Support (Run three independent displays): 1x VGA or DVI Input to 3x DVI-I Output
Max Resolution 5760×1080 DVI
Max Resolution 7080×768 VGA
Adds up to three monitors to your notebook or desktop computer
Connects to the DVI-DL or VGA video output of your system
Rentex No.

IPTH2GDVI
|
Mfr No. T2G-D3D-IF
The Matrox TripleHead2Go Digital Edition external multi-display adapter adds up to three monitors to your laptop or desktop computer. It connects to the video output of your system and uses the system's existing GPU to provide high-quality, uncompressed graphics and video across all monitors. Ideal for professionals requiring more desktop space for maximum productivity and gamers wanting a totally immersive experience, this little black box lets you run different applications on each display or view one application across multiple monitors. Organize your workspace more efficiently, multi-task more comfortably and make fewer errors with a Matrox TripleHead2Go-powered multi-monitor setup.
Matrox part number
T2G-D3D-IF
Maximum DVI Resolution 1
5760×1080 (3x 1920×1080) 2
3840×1200 (2x 1920×1200)
Maximum VGA Resolution 1
4080×768 (3x 1360×768)
3840×1080 (2x 1920×1080)
Input connector
1 DVI-DL input or 1 VGA input
Output connectors
2 or 3 DVI-I outputs (connects to digital or analog)
Power
USB for power
Dimensions
4.4″ x 5.5″ x 1.1″  (11.3cm x 14cm x 2.8cm)
Clone Mode
No
Stretched Desktop Support
Yes
Surround Gaming
Yes
Matrox Monitor Bezel Management
Yes – Available under Windows only
PowerDesk Software
Yes
Hardware included

One 2-foot HD-15-to-HD-15 (analog) input cable
One 2-foot DVI-DL to DVI-DL input cable
One USB cable
Getting started CD

Multi-unit support
Yes – Available under Windows only
System Requirements

Dual-link DVI or single VGA output connector, on a compatible system
Powered USB connector
Display Driver supporting 3072 x 768 or higher resolution

Supported Operating Systems
Microsoft® Windows® 10 (32/64bit), Windows 8 (32/64bit), Windows 7 (32/64bit), Windows Vista® (32/64bit), Windows XP (32/64bit), Windows Server® 2012 (32/64bit), Windows Server 2003/2008 (32/64bit), Mac® OS X® El Capitan (10.11), Mac OS X Mavericks (10.9), Mac OS X Lion (10.7), Mac OS X (10.6) and Linux® 3
Rent from a Partner, Not a Competitor
24/7 Sales
& Technical support

Same Day Delivery
to Most Major Cities

Competitive
Subrental Pricing

A Large Inventory of
High-Quality Equipment

Best-in-Class
QC Process

Rentex Locations
With locations across the country, Rentex can deliver to most major cities.